Recipe For Low-Fat Vegan Banana Apple Chunk Bread
Healthy Dessert: Vegan Banana Apple Chunk Bread
Bananas are my go-to pre- and post-workout snack so I always keep a bunch or two in the house. The warm weather is making my nanners turn spotty and soft before I have a chance to eat them. I have already enjoyed some Banana Almond Oatmeal Pancakes and am too banana smoothied out to whip out the blender again, but I didn't want these bananas to go to waste. It was time to whip up some banana bread. Here is a healthy breakfast option that's so sweet and moist, you'll want to devour it for an after-dinner treat.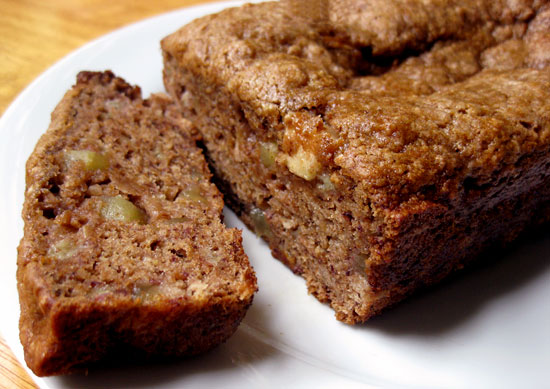 To see my easy recipe for this delicious Banana Apple Chunk Bread that's vegan and also low-fat, keep on reading.
Original Recipe
Healthy Dessert: Vegan Banana Apple Chunk Bread
Ingredients
2 ripe bananas
1 apple, peeled and diced
2/3 cup Sucanat (or sugar)
1 3/4 cups whole wheat flour
1/2 cup applesauce (I used raspberry applesauce)
1 teaspoon baking soda
1 teaspoon salt
Directions
Preheat oven to 350°F. Lightly spray a nine-inch loaf pan.
In a medium sized bowl, mash the bananas with a fork.
Add the rest of the ingredients and mix well. Pour into greased pan.

Bake for 45-60 minutes or until a toothpick inserted in the middle comes out dry.

Cool in pan for 15 minutes and then transfer to a cooling rack. Enjoy!
Makes eight servings.
Information
Category

Desserts, Breads
Below you'll find the nutritional information for one slice.