Pros and Cons of the Elliptical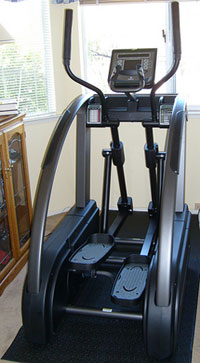 Since running is one of my favorite forms of cardio, I'm a big fan of the treadmill when I can't get outside for a run. I'm also big into the elliptical, and by the looks of my gym, it appears tons of other people are too. While it's a popular piece of gym equipment for so many reasons, there are also some disadvantages to using one. Check out the chart below to see if an elliptical is the right machine for you.



Pros
Cons

The circular motion and the fact that you're not pounding your feet down with each step is easier on your knees than running outside on concrete or on a treadmill.
The platforms for your feet are always free of rocks, trash, dog poo, and ice, so you can count on where you're stepping to be safe and clean.

Although using an elliptical is less impact on your joints, it also requires less effort, so people complain that it's too easy.
Since your feet need to stay on those little platforms, you feel like you have less control over your movements, and it's less natural for someone who's used to running.
To see the rest of the pros and cons, read more.
Pros
Cons

You control the pace by moving your legs slower or faster.
By increasing the resistance of the foot pedals you can make your workout more challenging for your legs and booty. You can also pedal backward to focus on working your backside.
You can also get an arm and upper back workout by adjusting the tension of the handles.
Since you're inside, you can watch TV to beat boredom.
The readout keeps track of your workout data including time, speed, distance, and calories burned, so you can monitor your progress.
Whether it's a torrential downpour outside or it's nighttime, you can always get in your workout.
It's a safe way to burn calories if you're afraid to exercise outside in your neighborhood.

Since you're in control of how fast your legs are moving, it's easier to slack off as compared to using a treadmill, which keeps the same pace.
Since they're a one-size-fits-all kind of machine, someone who's got a naturally shorter stride may end up hyper-extending their knees, which could lead to injury.
If you don't belong to a gym, ellipticals aren't cheap and you'll end up spending around $2,000 for a good one.
Just like any other piece of cardio equipment, the repetition of doing the same thing over again can be so boring that you cut your workout short.
The readout on the machine may not be accurate.
Ellipticals require electricity, so they're not exactly the greenest type of exercise. Plus, if there's a power outage, you can't work out.
Source: Flickr User Jill Clardy