Popcorn Recipes For the Oscars
How to Make Award-Worthy Oscars Popcorn
This Sunday I'll be celebrating the high in antioxidants, low-fat, and filling.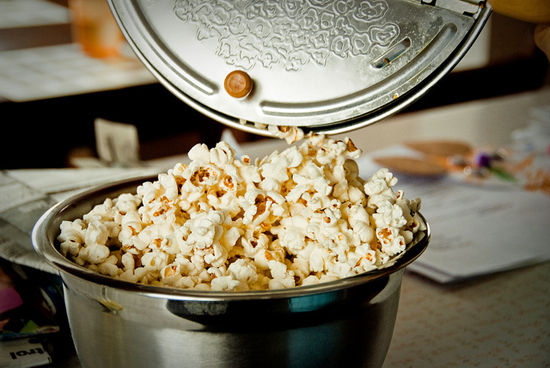 Since my friend's Oscar party leans closer to a fancy affair, she's glamming up her popcorn with creative toppings like a sprinkle of pepper and Parmesan cheese. But before even thinking about what goes on top, make sure you make it the old-fashioned way: on the stove with a little canola oil. It tastes better, is healthier for you, and doesn't contain all the junk found in store-bought microwave popcorn. If you're worried about calories, try our fat-free popcorn or use an air popper.
For a glammed up event like an Oscars party, I like sprinkling healthy toppings like nutritional yeast or seaweed onto my popcorn, or dried spices like rosemary, garlic, and cayenne. If that doesn't sound good to you check out YumSugar's popcorn recipe roundup. How do you like to dress up your popcorn?
Source: Flickr user ThomasLife