Light and Healthy Carrot Soufflé
Healthy Carrot Soufflé
When my sister moved to Georgia a few years ago, I had the chance to spend Thanksgiving with her. Amongst all the dishes on the table was a Southern staple that I thought about for months after coming home — brown sugar and maple glazed carrots. I wanted to make this dish at my own Thanksgiving dinner this year, but was shocked to find out how much sugar and butter the recipe calls for. I decided to try and make my own healthy alternative to the dish and I think you'll be happy with the results.


There's barely any butter in my version and the dish has much, much less sugar. I also decided to make it into a souffle (I'm using the term loosely here!) to cut back on oil and give it a creamier taste and texture. This would be a great side dish for your Thanksgiving meal and it's an awesome replacement for a candied yam dish — carrots have fewer calories than yams and are exploding with vitamin A. Chances are your guests won't even know the difference!
Check out the recipe when you read more.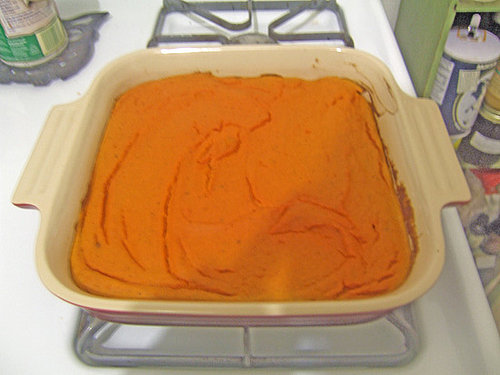 original recipe
Healthy Carrot Soufflé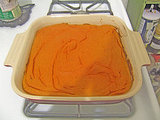 Ingredients
2 1/2 pounds of peeled, cut carrots
1/3 cup of plain lowfat yogurt
2 eggs and 1 egg white, beaten
2 tablespoons unsalted butter, softened
2 tablespoons maple syrup
1 teaspoon vanilla extract
3 tablespoons flour
1 teaspoon baking powder
1 teaspoon cinnamon
1/2 teaspoon nutmeg
1/2 teaspoon ginger
Pinch of salt
Directions
Preheat oven to 350 degrees.
Steam carrots until tender, about 20 - 25 minutes.
Place carrots in a food processor or blender and mix until smooth.
Combine yogurt, eggs, butter, maple syrup, and vanilla extract into the carrots.
Pulse in flour, baking powder, cinnamon, nutmeg, ginger, and salt to the mixture.
Transfer mixture to a 2-quart baking dish that has been lightly coated with cooking spray or butter.
Bake in oven for 45 minutes or until set and firm.
Information
Category

Side Dishes, Vegetables