Put down the phone, drop those torn takeout menus, and take a few deep breaths. It's time to retrain that brain when you're craving comfort food. Here are 18 takeout favorites that you can healthfully make in your own kitchen. Whether Asian, Italian, or all-American fare is your go-to order, click through and prepare to be inspired — and hungry.
Source: POPSUGAR user Dara8182 [1], Oh She Glows [2], Healthful Pursuit [3]
California Rolls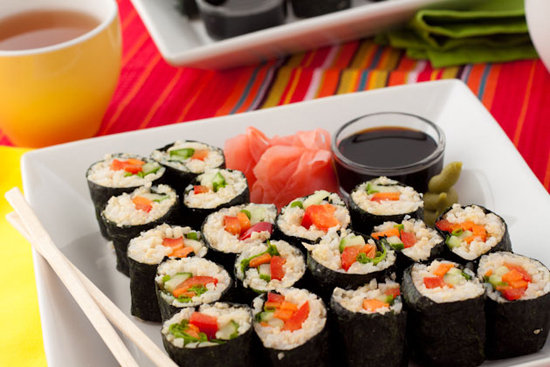 Takeout sushi may be one of the dinners you count on, but learning how to make your own homemade California rolls [4] keeps options light and makes for a fun activity.
Source: Healthful Pursuit [5]
General Tso's Chicken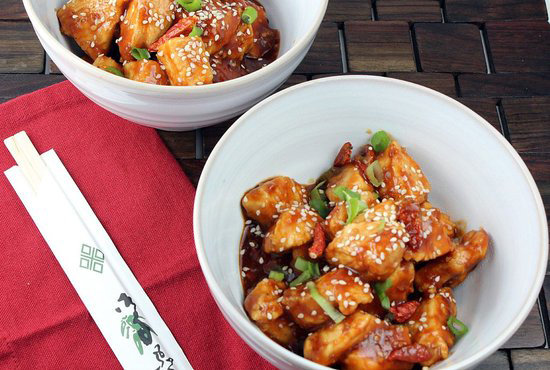 General Tso's Chicken [6] is a Chinese delivery staple that always delights. This lightened-up version won't have you missing those paper containers.
Source: POPSUGAR user Dara8182 [7]
Spicy Chili Burgers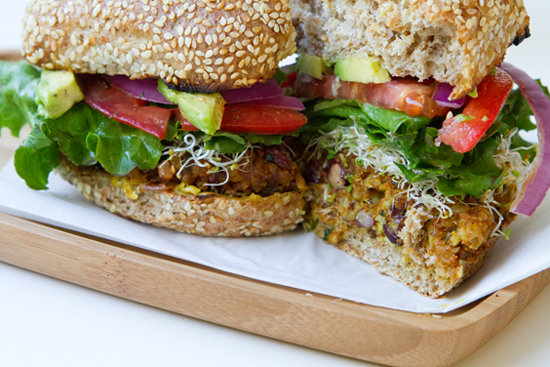 Fast-food burgers are such a simple grab, but if you take the time to create your own spicy vegan chili burgers [8], the flavors will be fresh, and you can load up on a heaping helping of veggies. Crave something meatier? Try our recipe for healthy bison burgers [9].
Source: Happy. Healthy. Life. [10]
Crab Rangoon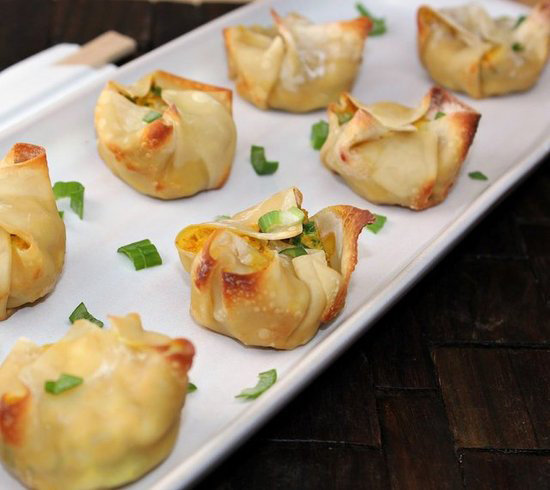 I know. We can't believe it either. These gorgeous skinny crab rangoon [11] are only 41 calories a pop.
Source: POPSUGAR user Dara8182 [12]
Portobello Pizza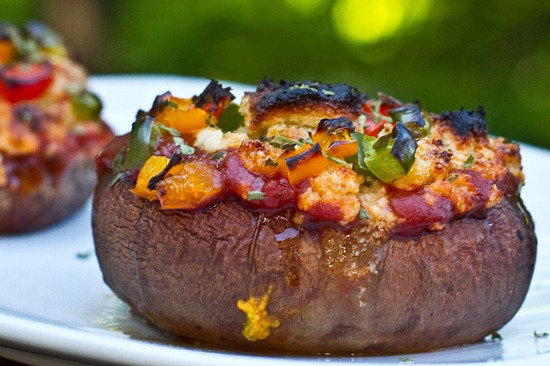 Vegan portabello pizzas in a cashew basil cheese sauce [13] are easy to make, take the carbs out of the equation, and are a perfect Spring feast.
Source: Oh She Glows [14]
Chicken Wings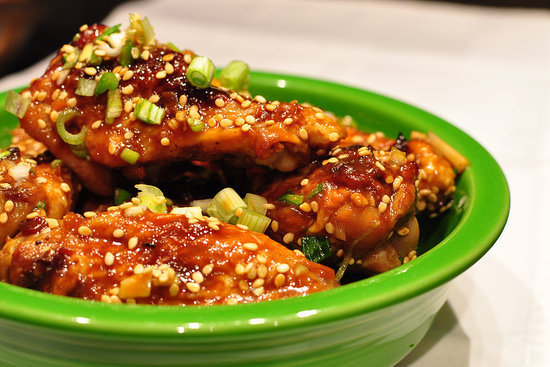 Chicken wings are one of those takeout orders that are hard to give up. Opting for simple sesame chicken wings [15] that are baked and not fried will allow you to enjoy them even more. Consider low-sodium soy sauce and lightening up on the hoisin and honey to make them an even healthier dinner.
Photo: Lauren Hendrickson
Enchiladas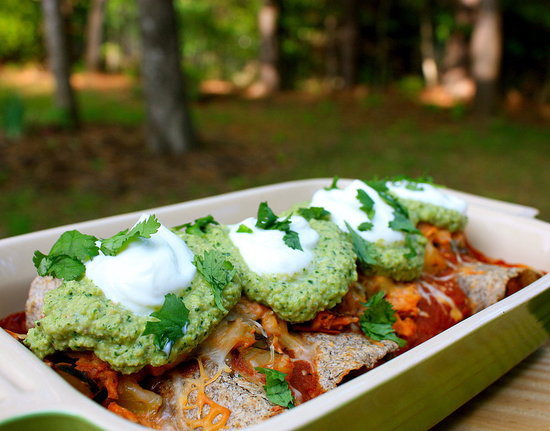 Mexican takeout smothered in cheese, guacamole, and sour cream packs on the empty calories. Choosing to make healthier enchiladas [16] packed with superfoods will have your belly (and the rest of your bod) saying, "Thanks."
Source: POPSUGAR user JennyKnight [17]
Tofu Cabbage Cups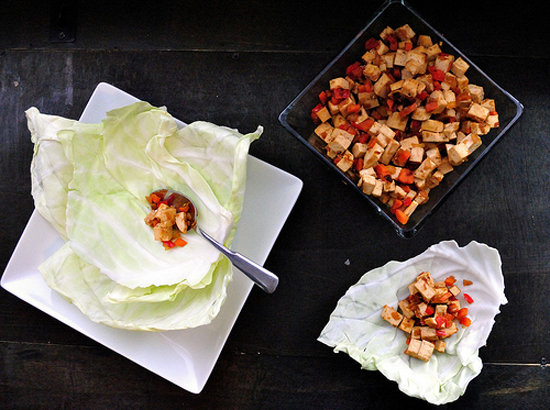 A lettuce wrap from your favorite restaurant may be a yummy bite, but you can never be sure just how much sodium, MSG, and sugary sauces are being piled on. Fresh tofu cabbage cups [18] keep you in control — without losing any of that crisp crunch or flavor.
Source: POPSUGAR user Gabbysgfree [19]
Thai Soup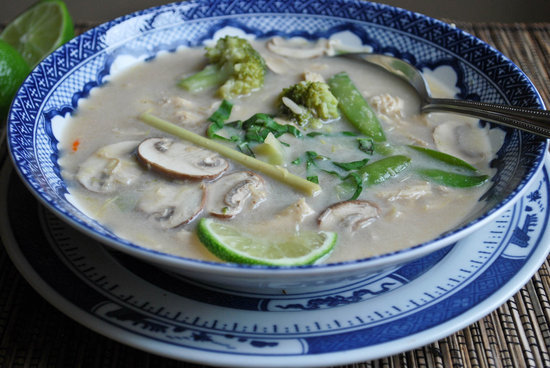 If you never thought you could make Thai food at home, you're in luck. This recipe for lemongrass chicken soup [20] takes a lot of the hard-to-find ingredients out of the equation and keeps things healthy.
Source: CheesePlease [21]
Veggie Stromboli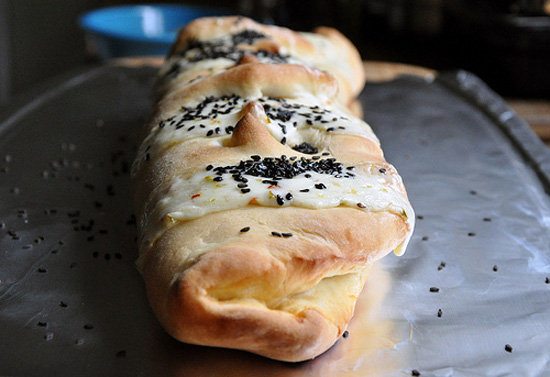 Forget the heavy meat-laden strombolis from your past, and say, "Hello," to a healthier baked stromboli [22], which helps you load up on delicious veggies. Reach for part-skim mozzarella to keep this recipe even lighter.
Source: (never home)maker [23]
Wontons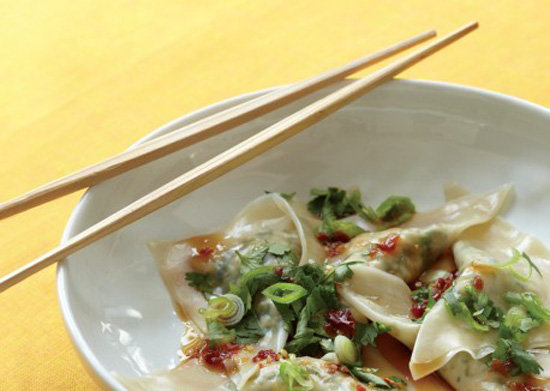 If gyoza and shumai are your guilty pleasures, you can have your wontons and eat them, too. Chard and tofu wontons in sambal soy sauce [24] keep things meat-free and give you a helping of yummy greens.
Source: Vegetarian Times [25]
Falafel Salad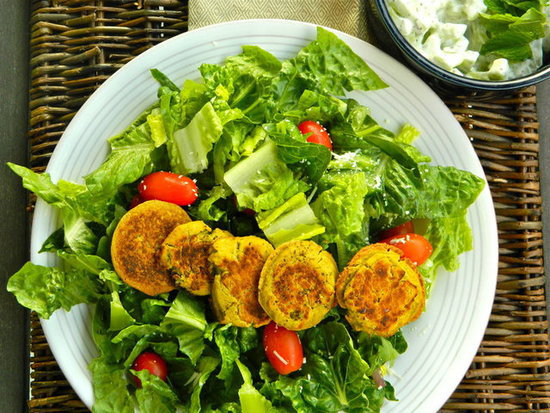 Get your Greek on with this falafel salad with cucumber-dill dressing [26]. The homemade falafel is baked — not fried! — and the dressing is a lightened-up alternative to traditional tzatziki sauce.
Source: POPSUGAR user simplyrealhealth [27]
Chirashi Sushi Bowl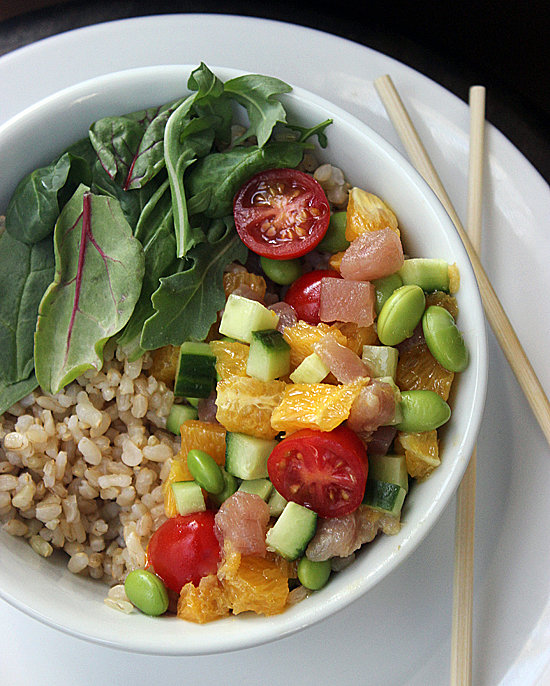 Re-create the fresh Japanese flavors you love in your own kitchen with this fresh tuna sushi bowl [28] recipe, filled to the brim with an inventive mix of bright and colorful produce plus tender, sustainable albacore tuna, full of B vitamins, protein, and healthy omega-3 fatty acids.
Photo: Lizzie Fuhr
Fresh Burrito Bowl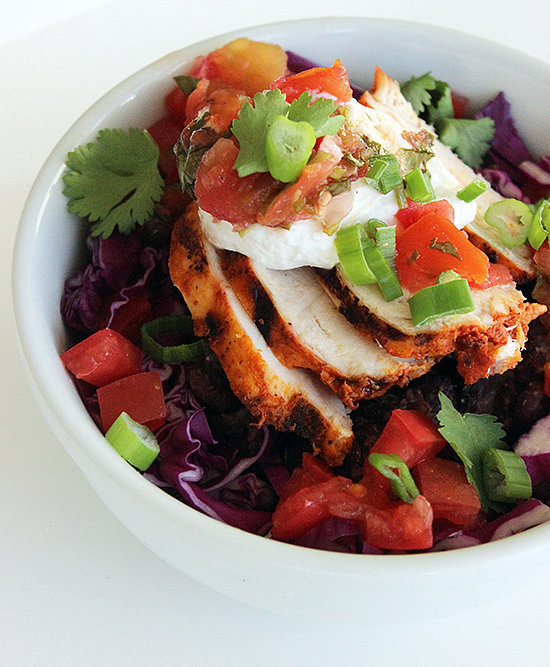 It may seem like a low-calorie meal, but a Chipotle chicken burrito bowl with all the fixings like salsa, cheese, and sour cream can weigh in around 745 calories. Cut all the long lines — and more than half the calories! — with this quick and delicious healthy burrito bowl [29] you can make at home in less than 10 minutes.
Photo: Lizzie Fuhr
Sweet Potato Pizza Crust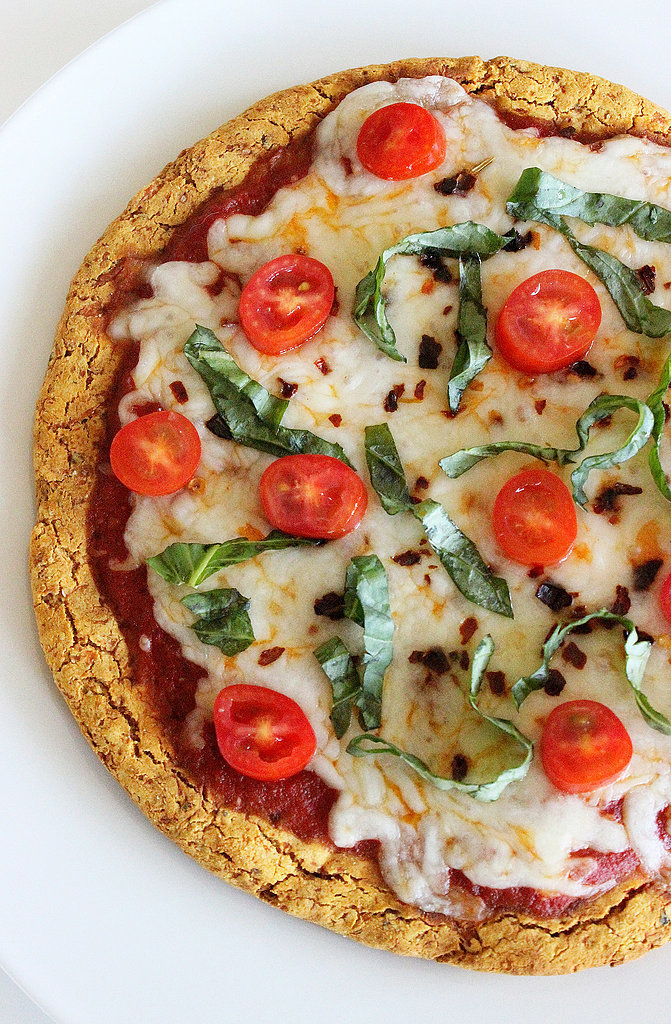 The high-protein, vitamin-A-rich sweet potato pizza crust [30] keeps a nice crunch on the outside and tastes like an extrafluffy mashed potato in the center. Even better, half of this pie offers over 20 percent of recommended fiber for the day, so unlike your standard neighborhood slice, this pizza will keep you full and satisfied hours later.
Photo: Lizzie Fuhr
Chickpea Curry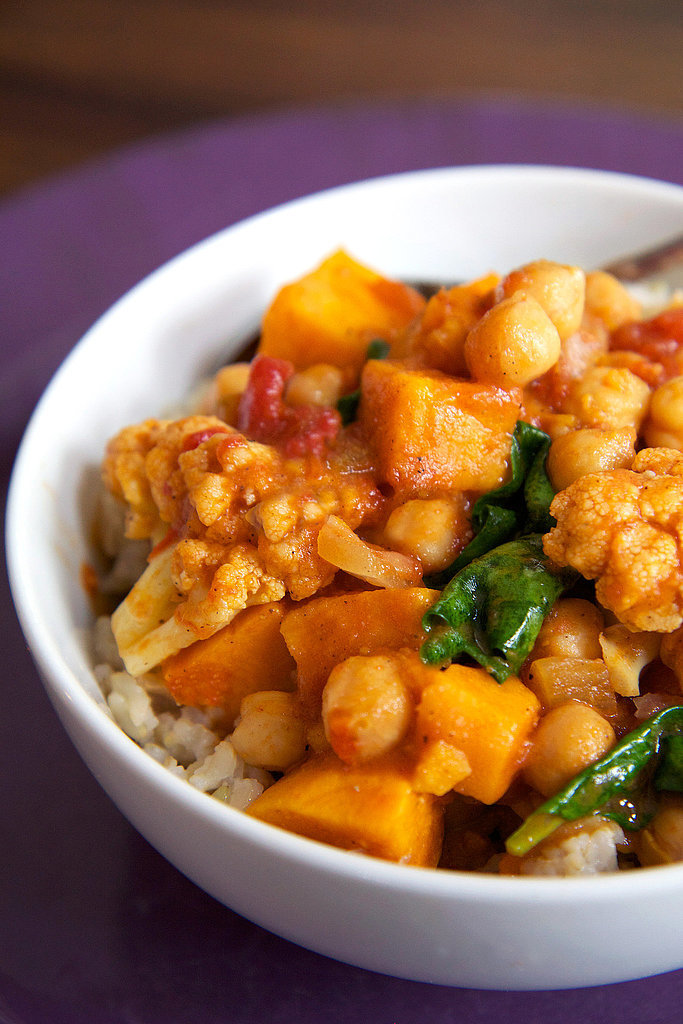 When you're craving Indian food at home, cook up this nutrient-dense chickpea and sweet potato curry [31] instead of picking up takeout that's loaded with cream and butter. This vegan recipe is rich in protein, fiber, and flavor.
Photo: Jenny Sugar
Vegan Bolognese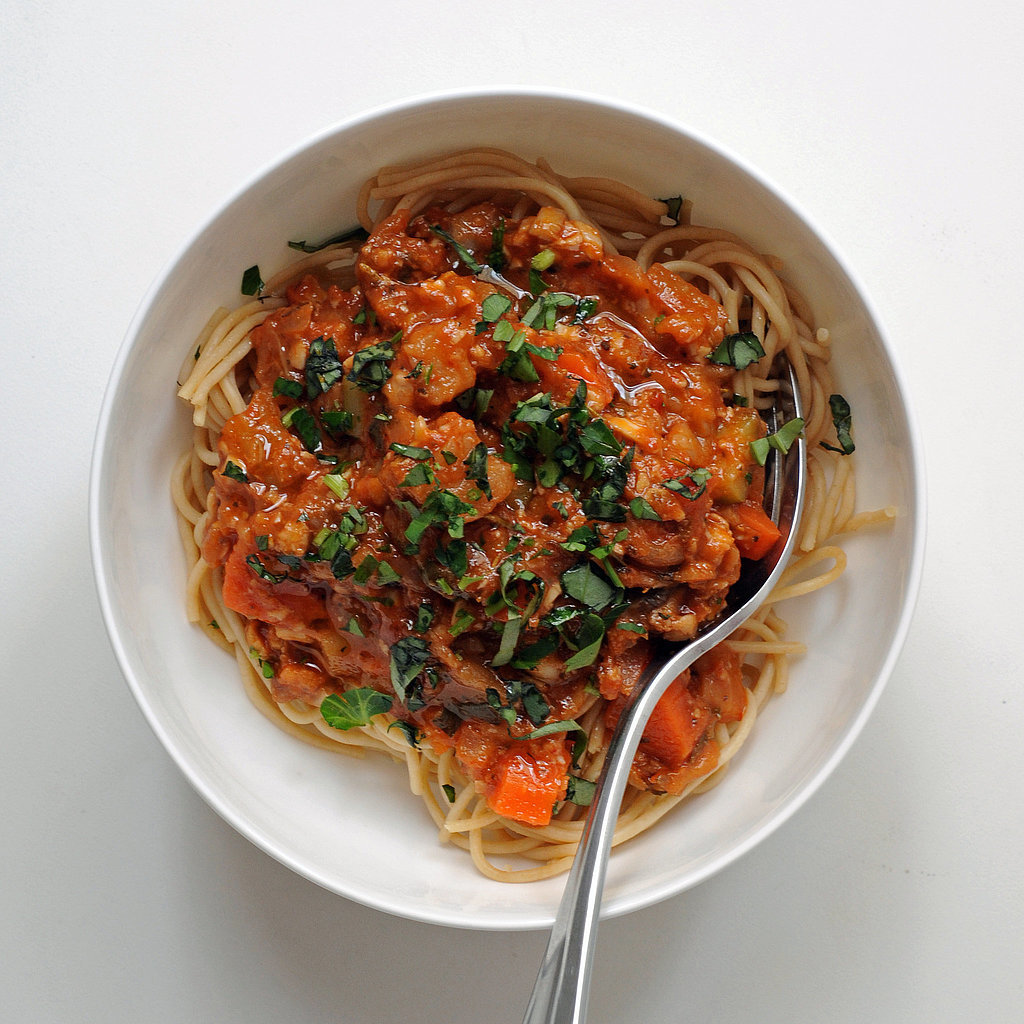 Instead of taking out a big, meaty bowl of spaghetti bolognese, cook up actress Olivia Wilde's vegan twist [32] on the classic dish at home. All the veggies, herbs, and spices help mask the fact that crumbled tempeh provides the sauce's comforting texture.
Photo: Nicole Perry
Almond Chicken Fingers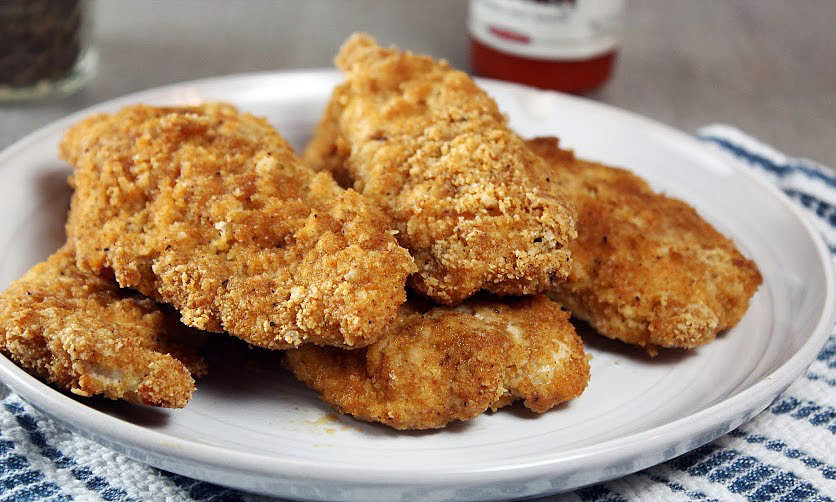 You can easily enjoy chicken fingers on a Paleo plan. Dig into a plate of these almond chicken fingers [33] that use almond meal and a number of spices to create a flavorful and crunchy crust.
Source: POPSUGAR user Dara8182 [34]