Healthy Recipe: Indian-Spiced Chard
As the weather turns cooler, I like adding spice to my meals. Nothing warms me up like a little curry. Last night I cooked up some red Swiss chard with some garam masala and tofu. Chard is one of my favorite leafy greens, which is why it's one of my must haves for October.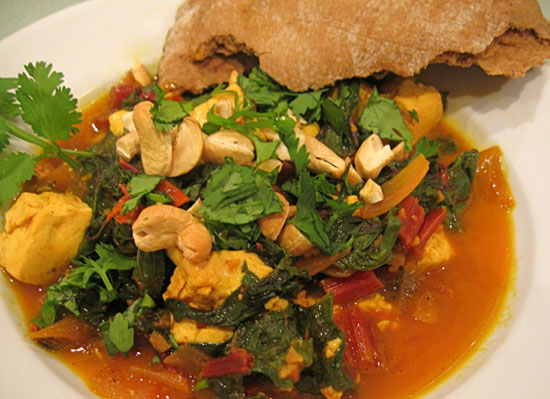 This Indian-spiced chard makes a great main dish, or leave out the tofu for a side dish. I served it with toasted whole wheat pita — my easy replacement for naan — or you could serve it over rice and cauliflower with turmeric as a side. It's a tasty meal and even better as leftovers.

Check out the recipe.
Indian-Spiced Chard With Tofu
Ingredients
One large bunch of red Swiss chard (around 16 to 18 leaves)
1 block extra firm tofu, cubed
3 tablespoons olive oil
1 onion, chopped
1 tablespoon ginger, minced
3 cloves garlic, minced
1 teaspoon turmeric
1 teaspoon garam masala
1/2 teaspoon red chili flakes
1 teaspoon cumin powder
1 teaspoon kosher salt
1 tomato, chopped
1 cup water
1/4 cup roasted cashews, for garnish
1/4 cup chopped cilantro for garnish
Directions
Rip leaves of chard of stalks and set stalks aside. Chop chard leaves into bite sized pieces, then wash and drain thoroughly. Rinse stalks, then chop.
Heat the olive oil in a large pan. Add the onions, garlic, and ginger and saute until golden brown — about three minutes. Add the chard stalks. Saute one to two minutes more. Add the turmeric, garam masala, cumin powder, red chili flakes, and salt. Saute three to five minutes until fragrant. Add the tomatoes and cook until tomatoes break down.
Add chard leaves and cook on med-high just until the leaves wilt, about three minutes. Add the tofu and water. Bring to a boil, reduce heat to med-low and simmer 15 minutes till chard cooks down and the flavors meld together.
Sprinkle with cashews and cilantro just before serving.
Serves 4
Information
Category

Main Dishes

Cuisine

Indian
If you have a tasty and healthy dish, please share it with us all in the Healthy Recipe Group. We are all looking for ways to freshen up our meals.