Go ahead and serve yourself a stack! These heathy pancake recipes offer fewer calories and fat than traditional buttermilk flapjacks, with a healthy dose of protein, fiber, and other nutrients. They'll power up your metabolism, regulate your blood sugar, and satisfy your cravings for a sweet and decadent brunch.
Apple Ring Oatmeal Pancakes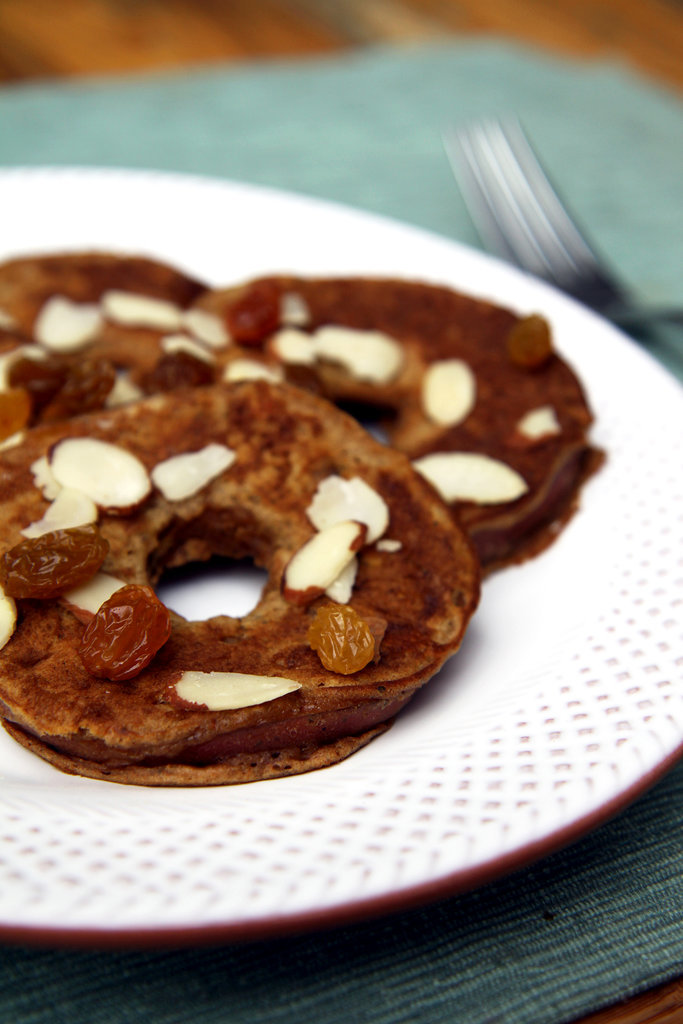 Slice fresh apples — any variety will work — and dip them in oatmeal pancake batter to make these apple ring pancakes [1]. We're talking more fruit, more fiber, and fewer calories. They're so sweet, no syrup is needed!
Photo: Jenny Sugar
Banana Sweet Potato Pancakes With Honey Nut Yogurt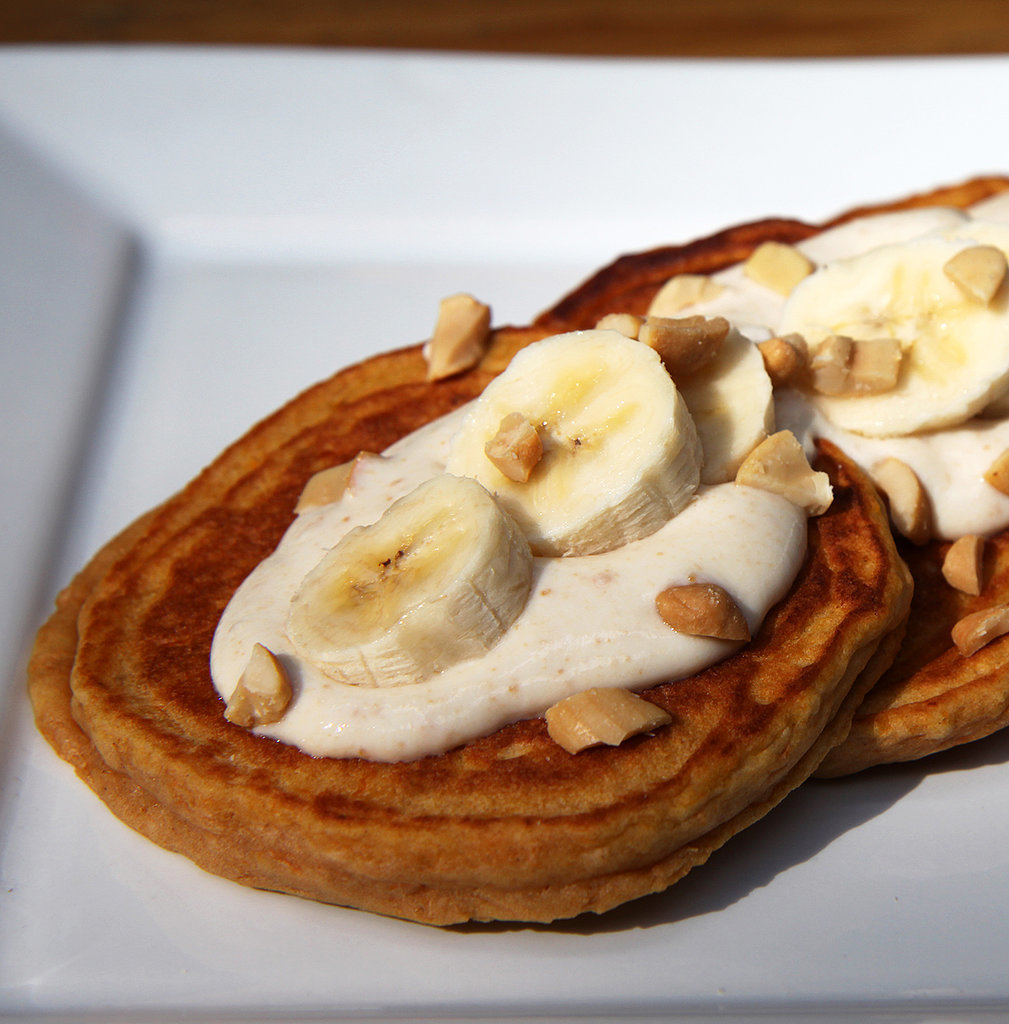 Roasted sweet potatoes mixed into the batter not only adds a warm, autumnal orange hue, but also increases the fiber and offers a soft moistness you'll love. Top it off with Greek yogurt sauce to cut down on sugar while upping the protein, and this veggie-filled breakfast [2] will fill you up and keep your energy high all morning long.
Photo: Jenny Sugar
Quinoa Pancakes
If you're not sure what to do with leftover quinoa, whip up a batch of fluffy pancakes [3] this weekend. This creative twist on the breakfast classic offers more folate, protein, and fiber than traditional recipes.
Photo: Lizzie Fuhr
Blueberry Banana — and Spinach! — Pancakes With Sweet Cream Sauce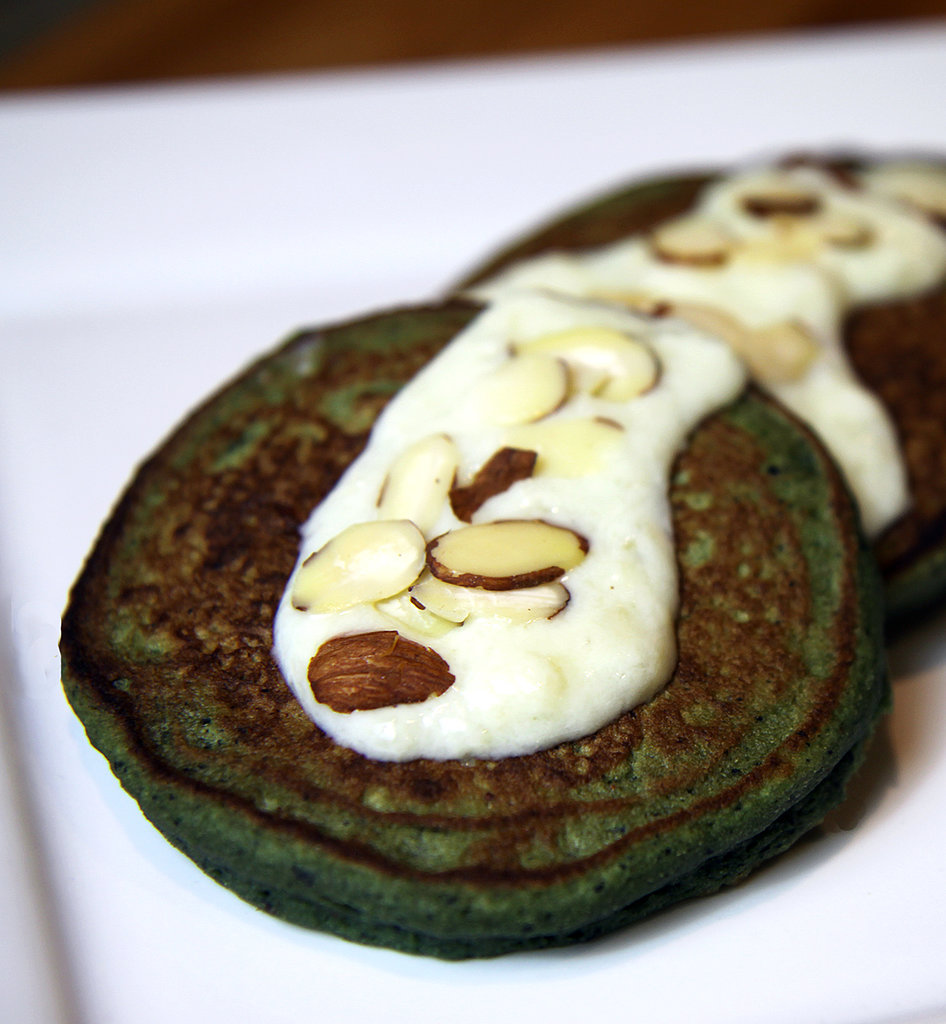 If you're into throwing greens into your fruit smoothie then you'll love this recipe that adds spinach to your pancakes [4]. Although the greens add a slightly teal earthy hue, they also add fiber, calcium, iron, vitamin A, vitamin K, and folate.
Photo: Jenny Sugar
Strawberry Protein Pancakes With Strawberry Cream Sauce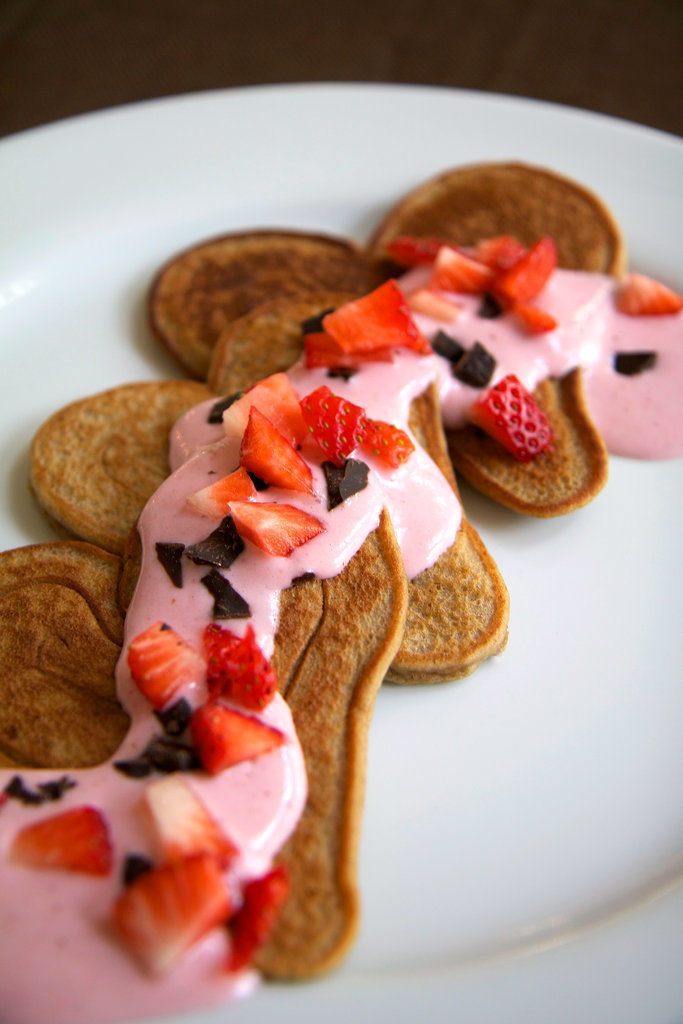 It doesn't have to be Valentine's Day to make a sweet pink heart-shaped breakfast. Aside from being low in calories — under 260 — these adorable heart-shaped flapjacks [5] are made with protein powder. The pancakes are also topped with a Greek yogurt sauce so the protein punch (almost 20 grams) will keep you energized for a butt-kicking workout later.
Photo: Jenny Sugar
Wheat-Free Pancakes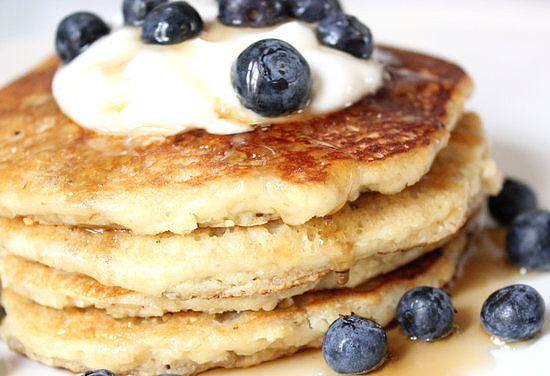 If gluten is off limits for you, whip up a batch of these wheat-free pancakes [6] made with almond flour and flaxseed. They're high in protein and fiber, but low in sugar.
Photo: Leta Shy
High-Protein Pancakes With Banana Cream Sauce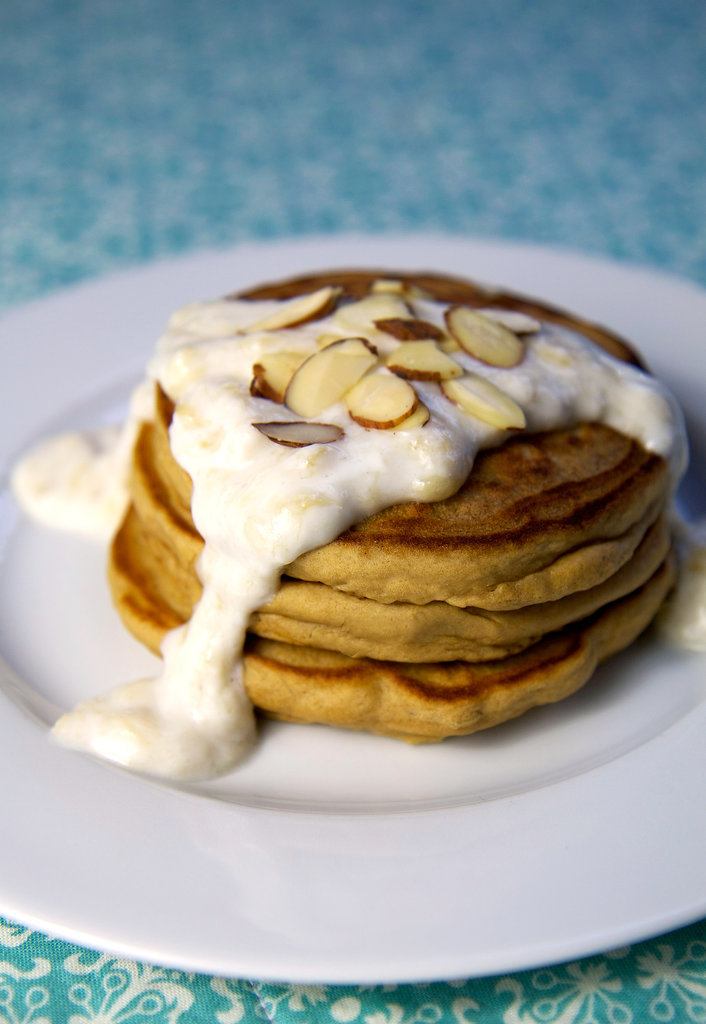 While Greek yogurt, eggs, and protein smoothies are excellent high-protein breakfast ideas, here's a scrumptious meal that'll offer over twice the amount of protein — almost 30 grams per 378-calorie serving [7]!
Photo: Jenny Sugar
Whole Wheat Mixed Berry Pancakes With Maple Cinnamon Yogurt
Save calories by topping these mixed berry pancakes [8] with maple cinnamon Greek yogurt.
Photo: Jenny Sugar
Whole Wheat-Cinnamon Pancakes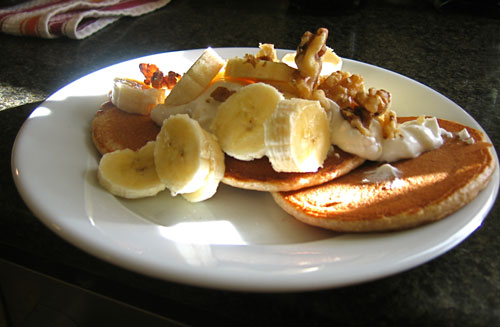 Skip the all-purpose flour and go with this whole wheat pancake [9] recipe. It's made with cinnamon for flavor and because it can temper the blood sugar surge that follows a sweet treat.
Photo: Susi May
Banana Almond Oatmeal Pancakes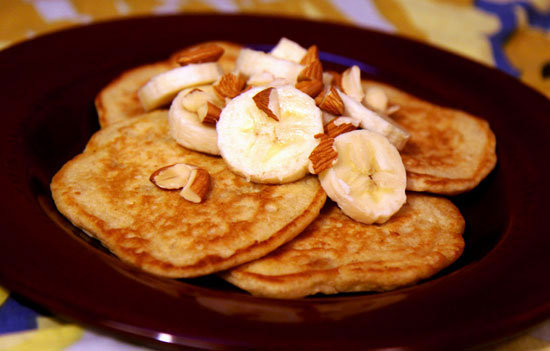 Here's a whole wheat pancake recipe [10] that includes hearty and fiber-rich oats and fresh bananas.
Photo: Jenny Sugar
Protein Coconut Flour Berry Pancakes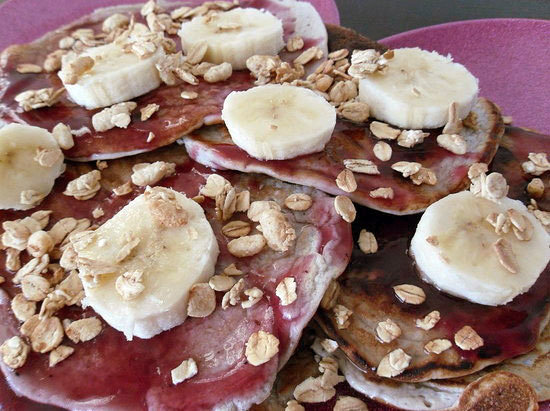 These protein coconut flour berry pancakes [11] are naturally sweet and satisfying.
Source: POPSUGAR User HealthyDiva [12]
NicGriddle Breakfast Sandwich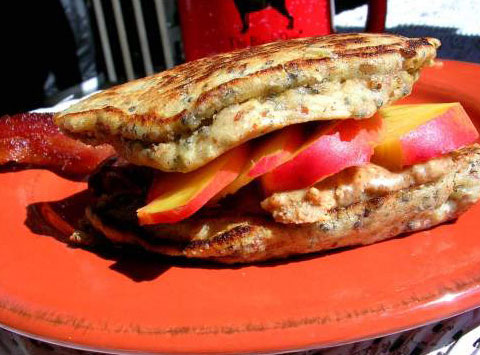 Check out this NicGriddle Breakfast Sandwich [13]. These pancakes are made with almond meal and used like pieces of bread in a sandwich filled with almond butter and nectarines. Creative and tasty!
Source: Frisky Lemon [14]
Chocolate Lover's Pancake
Craving chocolate in the morning? Whip up these chocolate lover's pancakes [15].
Source: POPSUGAR User lawebb [16]
Pumpkin Protein Pancakes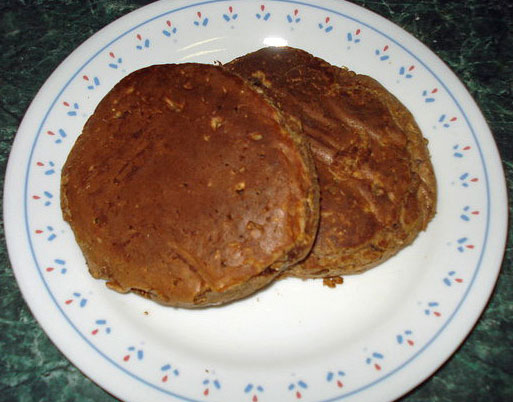 Warm up with a plate of these pumpkin protein pancakes [17], perfect for a chilly morning.
Source: POPSUGAR User jessvogel85 [18]
Lemon Blueberry Quinoa Pancakes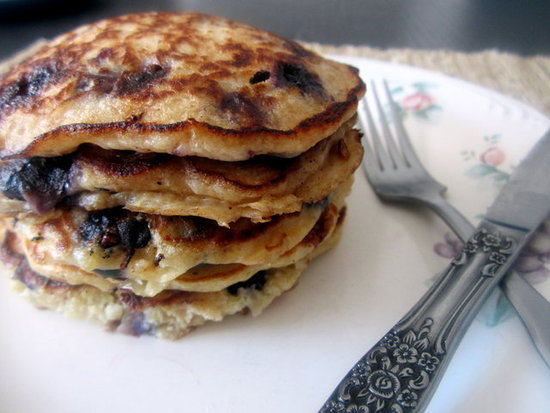 Made with the goodness of quinoa [19], Greek yogurt, and egg whites, check out this scrumptious recipe.
Source: Ambitious Kitchen [20]
Brown Rice Protein Pancakes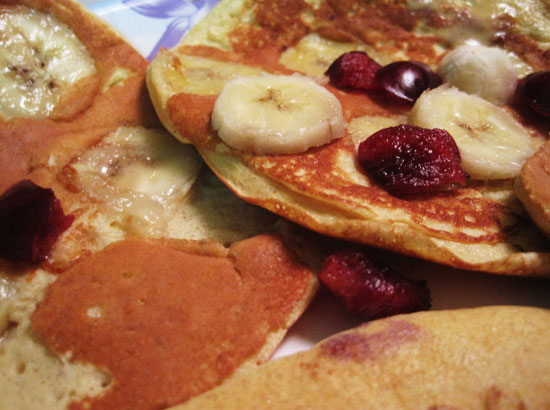 If you're gluten-free, make these brown rice protein pancakes [21] and jazz them up with your favorite toppings.
Source: POPSUGAR User sunshineee [22]
Whole Wheat Vanilla Strawberry Pancakes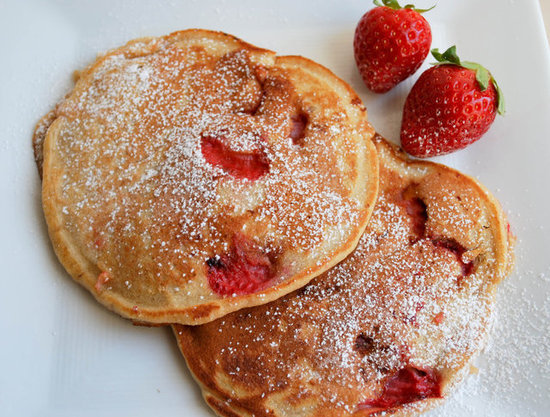 Made with whole wheat flour and nonfat milk these vanilla strawberry pancakes [23] are delicious, moist, and fluffy!
Source: Cheese Please [24]