Essential Gym Accessories
5 Essentials You Should Always Stock in Your Gym Bag
Going to the gym takes commitment, so once you're there, it should be a smooth experience. Unfortunately, dirty shower rooms, flyaway earphones, and having to juggle all your stuff from machine to machine can make your entire session more than annoying. Keep these five items stocked in your gym bag to make your trip that much easier.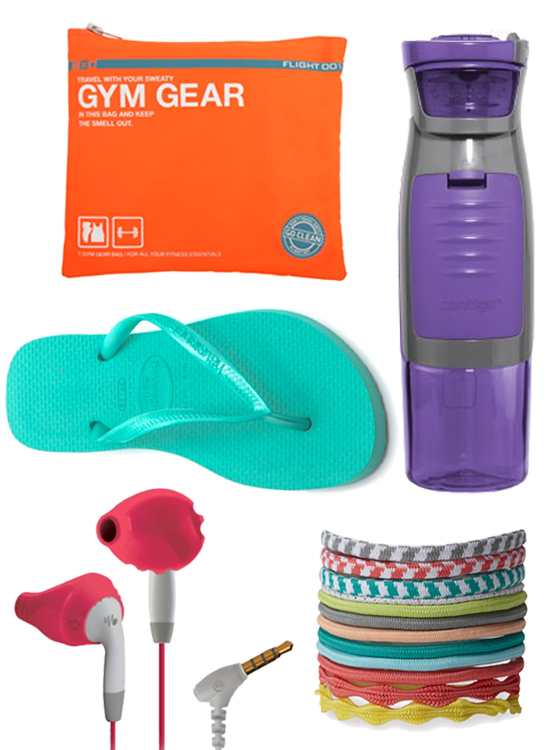 Wet gear bag: Don't ruin your after-gym outfit by throwing a sweaty sports bra into the mix. This Flight 001 Go Clean Gym Gear Bag ($30) holds all your damp (and odorous!) clothes and is a more environmentally friendly option than your those plastic bags.
Hold-anything water bottle: The Contigo Kangaroo Water Bottle ($14) is hiding a secret: a convenient flip-open compartment that holds your keys, cards, and then some. The no-leak, button-operated spout makes for easy use on the treadmill, bike, or elliptical.
Hair ties: It's frustrating when you realize you have nothing to pull your hair back as you head out of the locker room. Never let your mane fly loose again by stocking up on inexpensive hair ties you can stash in your bag. These Forever 21 hair ties ($3) are cute and wallet-friendly.
Stay-put headphones: Few things are more annoying than having to readjust your earphones during a treadmill session. The Yurbuds Ironman Inspire earphones ($30) won't budge, so you can focus on your workout (and your playlist).
Shower shoes: Get rid of the yuck factor during your post-workout shower. A pair of rubber sandals, like these Havainas ($10, originally $26), should always be in your bag.