Down Dog Dancer Pose
Strike a Yoga Pose: Down Dog Dancer
Balancing poses challenge our muscles as well as our minds. Some are harder than others, and if your back and hamstrings are flexible, you'll love this one, which is a combination of Downward Facing Dog and Dancer.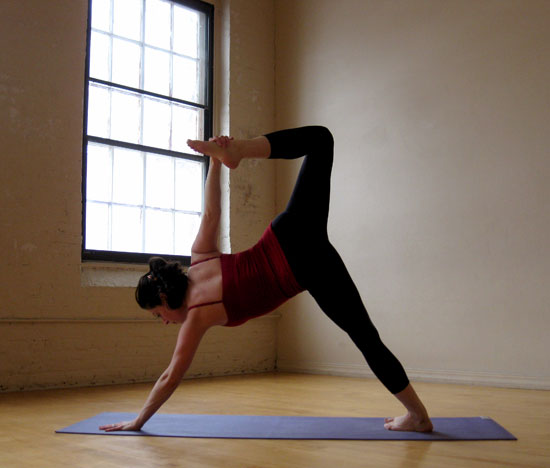 Sanskrit Name: Adho Mukha Svana Natarajasana
English Translation: Downward Facing Dog Dancer Pose

To learn how to do this pose read more.
Begin in Downward Facing Dog with equal weight on your hands and feet.
Raise your right leg up in the air and bend your knee. Then lift your right arm up and reach for your right foot. Arching your spine and kicking your foot away from you will help you stay balanced.
After five breaths, release your hand and foot to the floor, coming back into Down Dog. Then repeat this pose on the left side.
This is one of my favorite balancing poses because it's so challenging, but once I can hold my body in a stable position, it really calms my mind. Head on over to the Yoga Stretch and Tell community group and tell me, what's your favorite yoga pose?