Lately, it seems like no outfit is complete without a wearable fitness tracker. With sleek designs and bright colors, the latest and greatest in self-quantifying technology are making their presence known on arms everywhere. Interested in joining the fitness-tracking pack? We've rounded up 10 of the most popular fitness trackers — including the Nike+ FuelBand SE, the Jawbone UP3, and the Fitbit [1] Charge — to help you compare features and prices. Read on to find the right fit for you, then check out which trackers are the most accurate here [2]!
Garmin Vivofit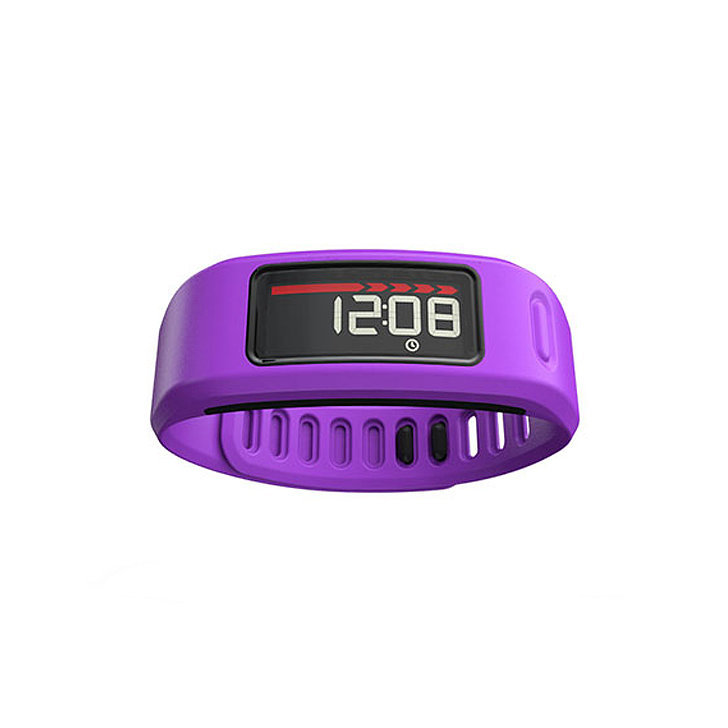 For a tracker you never have to take off, try the Garmin Vivofit [3] ($130). Its battery lasts for over a year and is waterproof, meaning you can keep it on while you take a shower. The Vivofit tracks steps, distance, calories, and sleep and can also track workout details when paired with a heart-rate monitor (sold separately). An activity bar will show you whether you've been sitting for too long. The Vivofit syncs wirelessly with its free iOS or Android app as well as your computer.
Fitbit Flex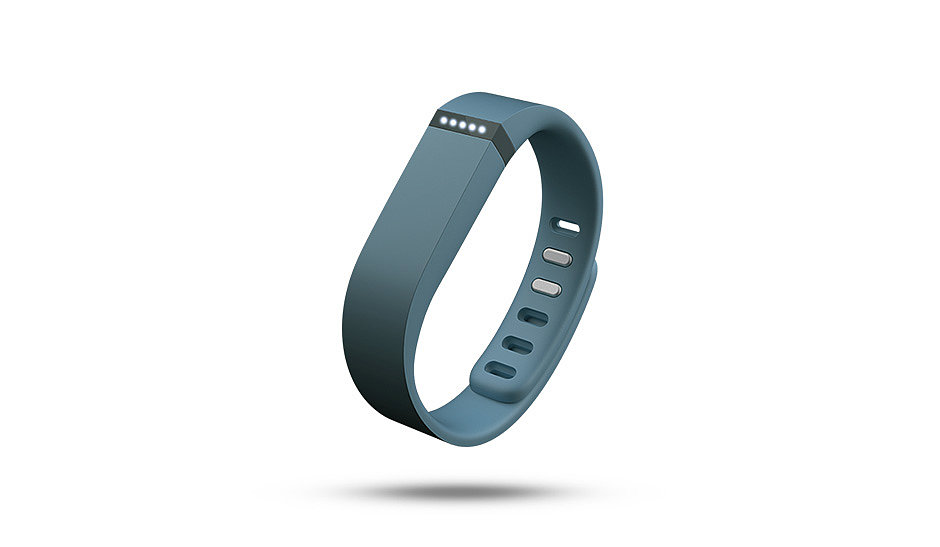 The Fitbit Flex [4] ($100) is a slim, minimalistic wristband. It tracks your activity level, sleep quality, calories burned, and distance traveled; you can program the lights on the band to indicate real-time progress on hitting your goals. The Flex also vibrates to wake you up and wirelessly syncs to automatically update your stats whenever it's in close range of the included Bluetooth-enabled wireless dongle, which plugs into your computer's USB port; you can also wirelessly sync to your iPhone, iPad 3, iPad Mini, or Samsung Galaxy. If you like the features of the Fitbit [5] Flex but don't want to wear a wristband, then try the Fitbit One [6] or Zip [7].
Another FitBit Flex sibling, the FitBit Force [8] (currently unavailable), is a similar-looking tracker. However, in February, the Force was recalled [9] due to an allergic reaction some users experienced when wearing the band. Like the Fitbit Flex, the Force tracks steps, calories, and distance as well as sleep stats; unlike the Flex, the Force also can gauge how many stairs you've climbed and elevation, and it features a display, as well. The water-resistant Force syncs wirelessly and automatically to your iOS or Android phone or computer, so you can view your stats on an app or browser. Since the current Force has been recalled, keep an eye out for the next-generation model of the band soon.
Fitbit Charge
The Fitbit Charge [10] ($130) is similar to the Fitbit [11] Flex but with a larger display and caller ID info from your nearby smartphone. Like other Fitbits, it tracks your activity (steps, distance, and calories) and sleep patterns.
Fitbit also just announced two other devices: the ChargeHR ($150), which is like the Charge, but with heart-rate-monitoring capabilities, and the Surge ($250), a smartwatch and tracker in one. You can preorder both now [12] for availability in early 2015, or keep your eyes peeled the next time you're holiday shopping; Charge HR or Surge units will be available in limited quantities at select retailers.
Misfit Shine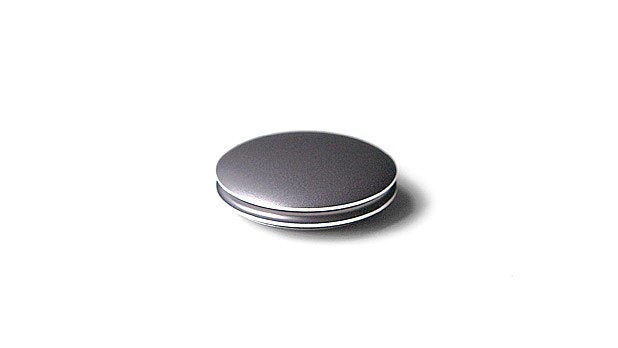 If you like your fitness trackers sleek and minimal, then the Misfit Shine [13] ($100) may be for you. The Shine conceals its technology in a metallic orb (choose from four different colors) and tracks steps, calories, and sleep. It can also track activities (running, cycling, and swimming). The circular, waterproof Shine can be worn on your wrist, clipped to your clothing, or worn as a necklace, depending on which accessory you buy, and includes a watch battery that lasts about four months. The lights on the Shine can tell you how much progress you've made that day, but for more detailed information, you'll need the free iOS or Android app; the Shine syncs with the app when you place it on your phone.
Nike+ FuelBand SE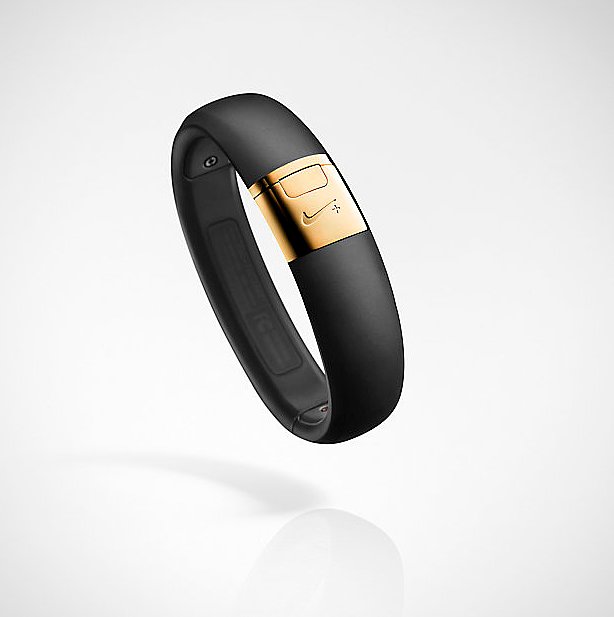 The Nike+ FuelBand SE [14] ($99-$150) includes a few extra features from the previous FuelBand. Like the older model, the FuelBand SE tracks calories, steps, and Nike [15] Fuel points, but the new model now also tracks sleep. It also aims to improve calorie burn and Fuel point accuracy with a new feature that allows you to log different types of workout sessions (such as yoga or weight lifting). The water-resistant FuelBand SE syncs automatically with the iPhone app, so you don't have to push a button to upload data as you do with the older model. Neither the FuelBand SE nor FuelBand is compatible with Android devices.
Polar Loop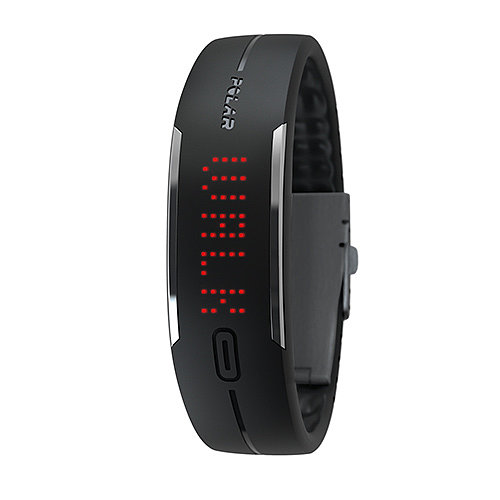 The waterproof Polar Loop [16] ($110) tracks your steps and calories; after syncing via Bluetooth or USB cable, the iPhone-only app also features an Activity Guide that tells you specific things you can do to help you meet your daily goal (for example, going on a 20-minute walk). If you're sitting down for a while, the app will also remind you to get moving. On the bracelet, the display shows the words "Up," "Walk," or "Jog" depending on your activity intensity; you can also sync a heart-rate sensor to the tracker to help you more accurately track your movement. The Polar Loop is available in black, blue, or purple.
Bowflex Boost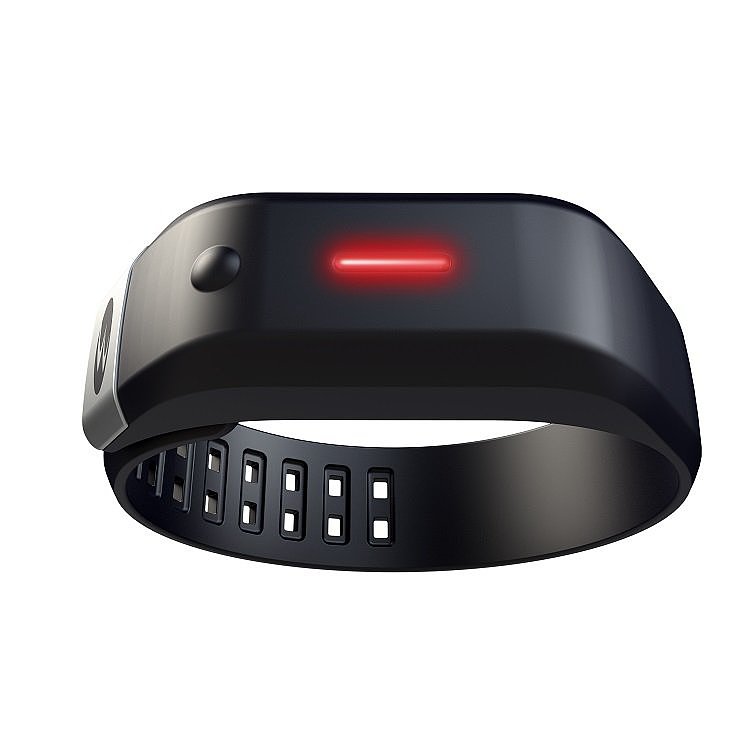 The Bowflex Boost [17] ($50) has all the same basic features of any fitness tracker but at a more affordable price. It tracks calories, steps, and distance as well as sleep stats, all of which sync wirelessly and automatically with its accompanying iPhone app (it's not compatible with Android devices). There's no display, but red, yellow, and green lights let you know whether you've hit your goals. For more details on the Bowflex Boost, read Self's review here [18].
BodyMedia Fit Link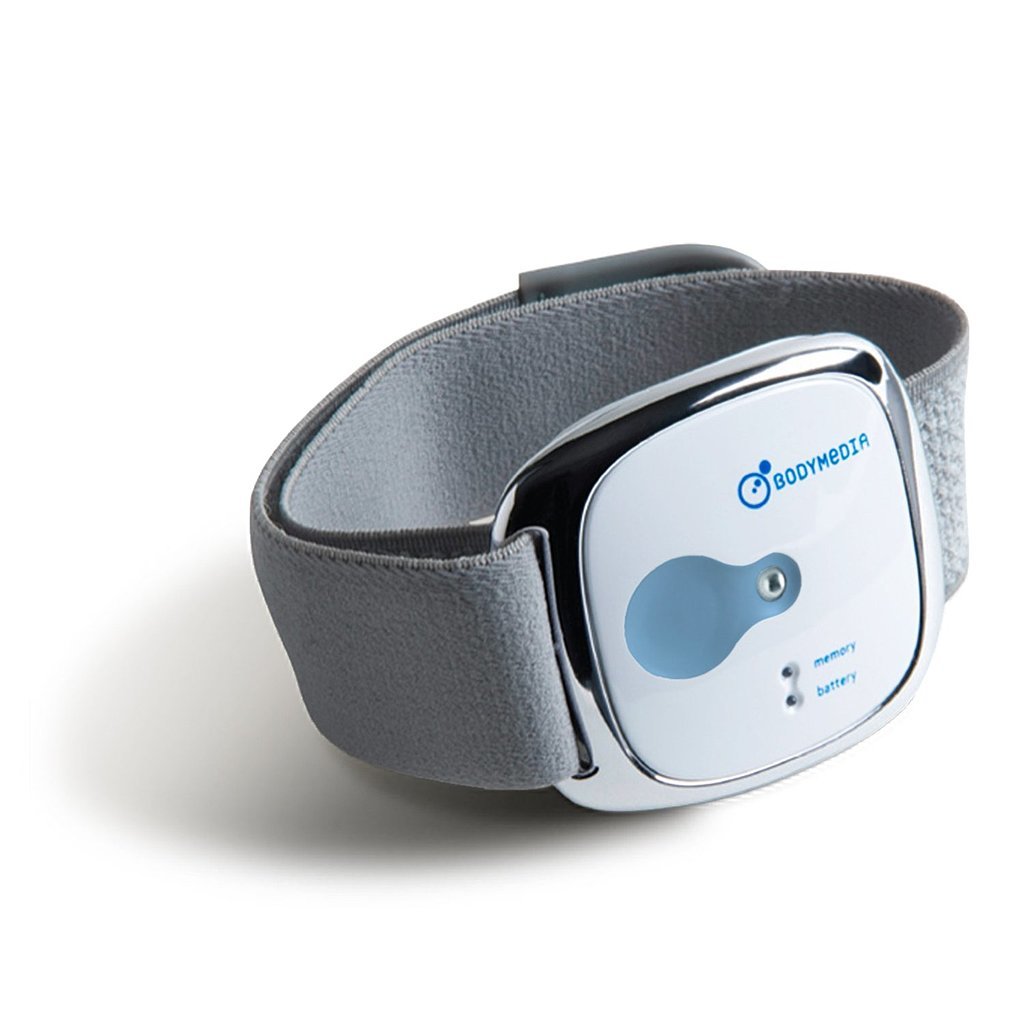 The BodyMedia Fit Link [19] ($120) isn't as sleekly designed as the other trackers, but it has staying power for two reasons: it's simple, and it works. Wear the band on your upper arm throughout the day to track calories burned, exercise intensity, steps taken, and sleep quality. You can also keep track of everything you're eating using the online weight management system. At the end of the day, upload your activity stats to see if you burned more calories than consumed. One big downside of this tracker is that after a free six-month membership, a $7-per-month subscription is required to access the data it collects. The BodyMedia syncs wirelessly with smartphones and also plugs into your Mac or PC to download and view data. BodyMedia was recently acquired by Jawbone, so expect its technology to pop up on the company's sleeker design.
Jawbone UP24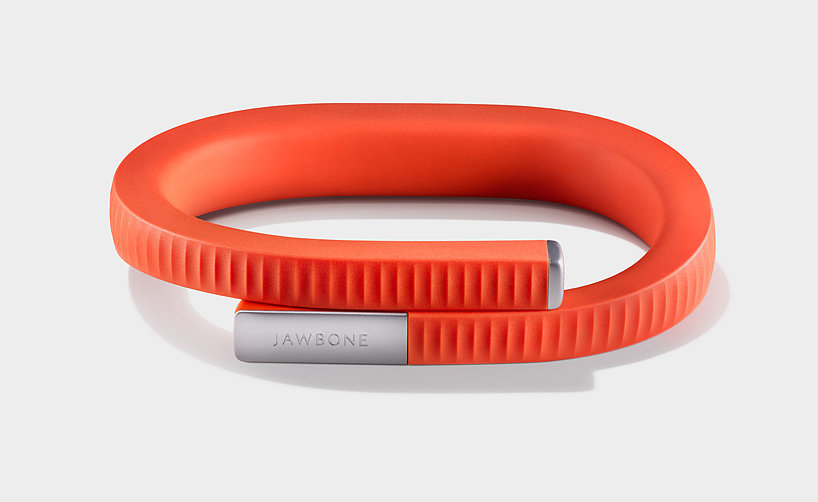 Like the Jawbone UP before it, the Jawbone UP24 [20] ($150) is all about tracking your activity — like walking, pace, distance, and calories burned — and continues tracking your behavior after you're fast asleep. After synching the UP24 wirelessly with your iOS or Android device, you can check all your data and make new goals through the app. You can also program in other stats manually, like workouts, mood, and meals (the UP24 also syncs with third-party apps like MyFitnessPal). The small bracelet can also be programmed to vibrate at an optimal time during your sleep cycle to wake you up or even during the day to remind you to get up and move. The UP24 has a battery life of about seven days before needing to be recharged. For more on the Jawbone UP and UP24, read our extensive review here [21]!
Jawbone UP3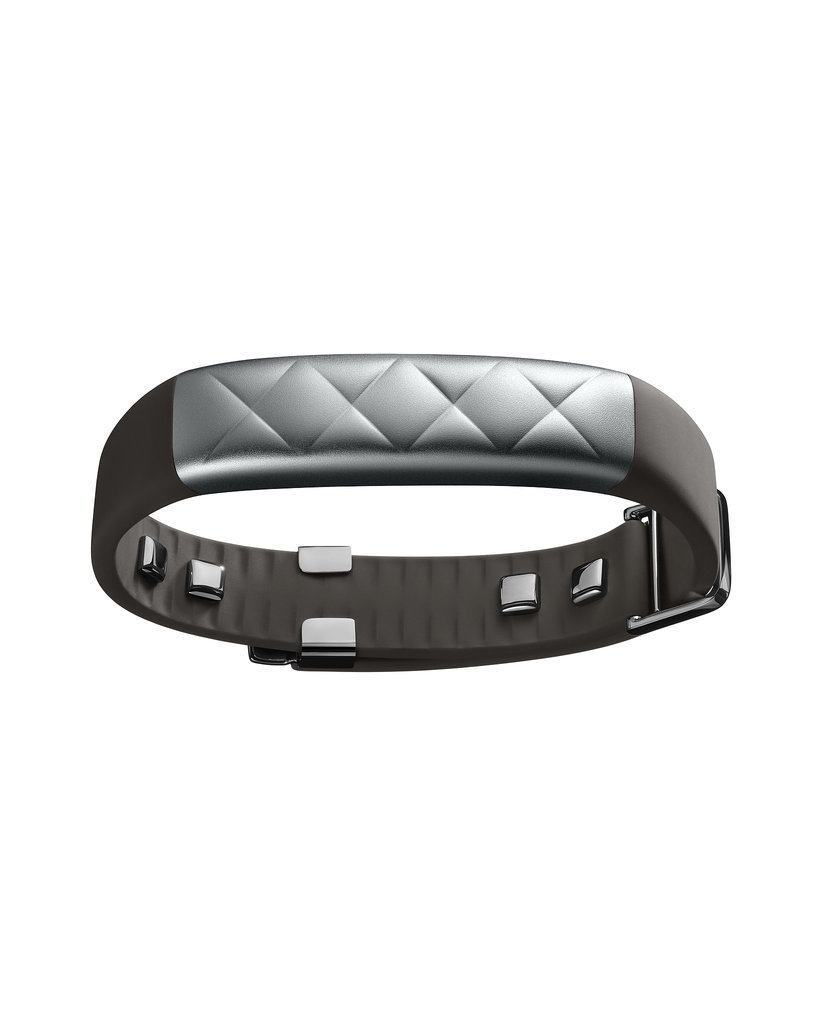 The UP3 [22] ($180) is an update on its classic UP model. New in this model are advanced sleep and activity tracking capabilities, but the biggest update is the ability for the UP3 to record your resting heart rate using skin and temperature sensors on the tracker. The UP3 has up to seven days of battery life and is water resistant up to 10 meters. The UP3 will be available in black later this year; more colors will be available next year.
Jawbone UP Move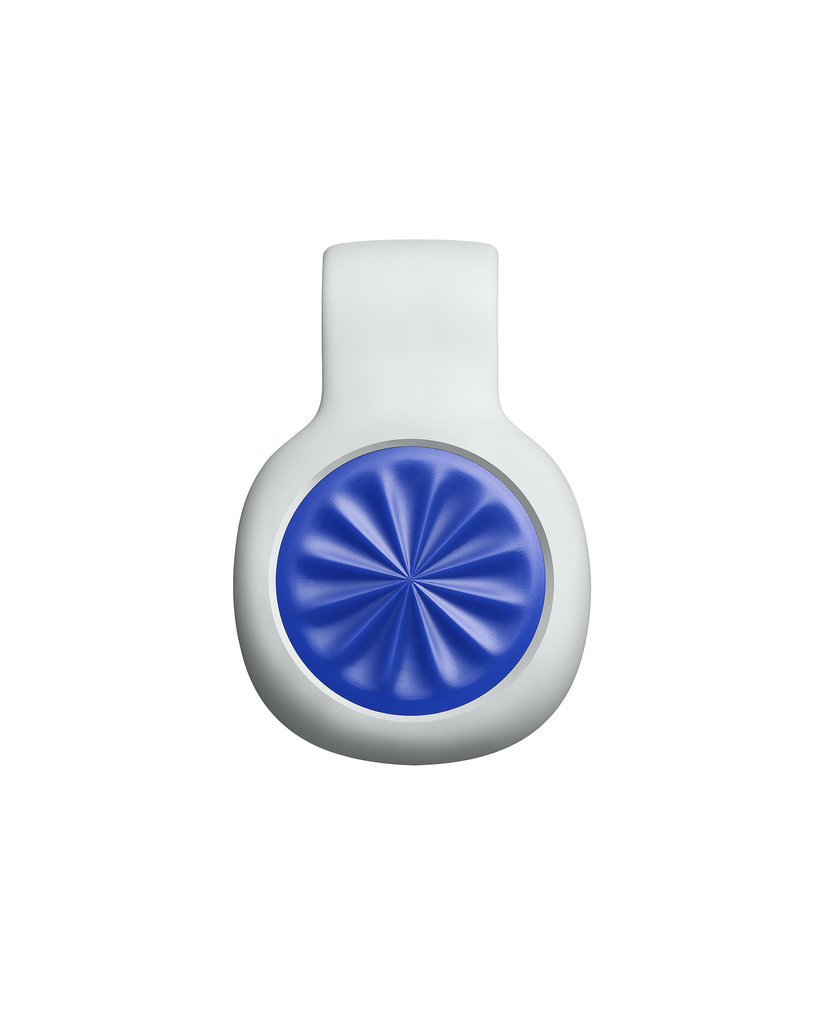 The UP Move [23] ($50), billed as Jawbone's entry-level fitness tracker, tracks the basics: steps, exercise, calories, and sleep, just like the more expensive models. The difference? The UP Move is a clippable model that you can wear anywhere, although you can also purchase wrist straps for $15 each. The UP Move is available now for preorder in several colors, with the purple Grape Rose color available at Best Buy and the Jawbone website later this month.
Striiv Play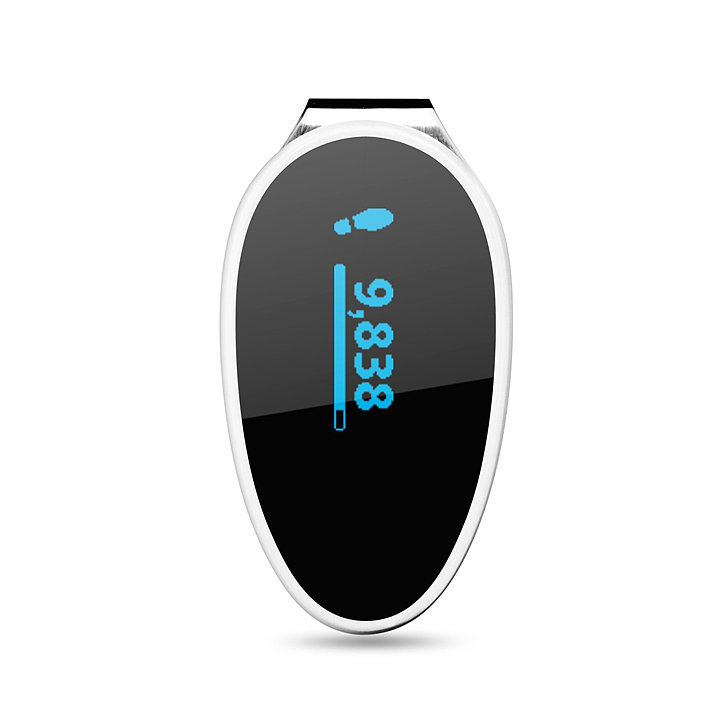 The Striiv Play [24] ($70) is a pedometer that turns your day into a video game. Paired with its iPhone app, the Striiv Play gives you customized challenges to meet through the day, like taking 200 steps in 15 minutes or going the distance of a marathon. The Play tracks your steps taken, distance, stairs, and calories burned, and the iOS app syncs wirelessly with MyFitnessPal to monitor calorie intake.
Withings Pulse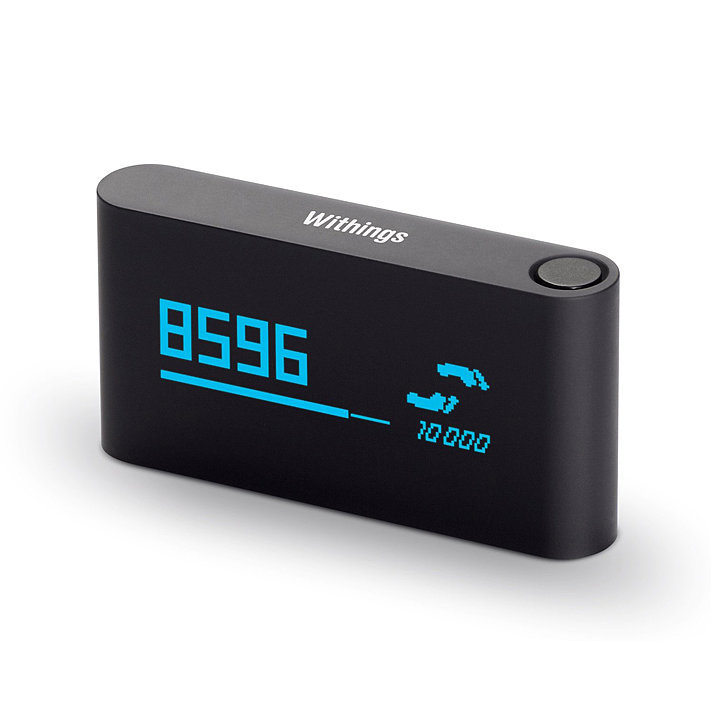 The lightweight Withings Pulse [25] ($120) clips onto your clothing and measures steps, distance, elevation, calories, and sleep (it comes with a wrist strap, so you can wear it while you sleep). When you run, the Pulse shows you how long and how far you've gone. The Pulse stands out from the rest, however, with an additional metric: place a finger on the back of the Pulse, and it'll tell you your heart rate. Then, sync data wirelessly to your iOS or Android phone with the free Withings app. The Pulse has a battery life of about two weeks before needing to be recharged.