Cinnamon Quinoa Bake
A Reader Recipe: Cinnamon Quinoa Bake
Need a little spice in your life? Try this recipe for gluten-free cinnamon quinoa bake from reader Gabysgfree. She shared the recipe in our Healthy Recipe group.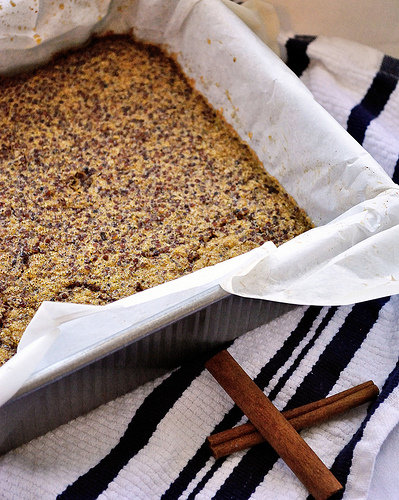 This sweet take on quinoa is perfect for breakfast or a midmorning snack. It's even better with a dollop of nut butter and a cup of tea!
Learn how to make this protein-packed treat after the break!
Ingredients
2 1/2 cups quinoa, cooked and cooled
4 eggs, beaten
1/3 cup vanilla soy milk
1/3 cup maple syrup (optional)
1 teaspoon vanilla extract
1 tablespoon cinnamon
Directions
Yields nine to 12 bars
1. Preheat the oven to 375ºF and place the quinoa in a large mixing bowl. Line an 8-by-8-inch baking pan with lightly greased parchment.
2. In a small bowl, whisk together eggs, soy milk, vanilla extract, and cinnamon until thoroughly combined. Add maple syrup (if using) and whisk.
3. Add egg mixture to cooked and cooled quinoa. Stir with a large spoon to combine. Pour into the parchment-lined baking dish and spread it around to ensure that it's even.
4. Bake for 20 to 25 minutes until set and golden.
5. Using parchment, remove bake from pan as soon as possible so that it doesn't steam.
6. Cool completely and cut into squares. Serve with a dollop of nut butter.
Information
Category

Breakfast/Brunch, Other
Check out more of Gabysgfree's gluten-free recipes at her blog, Gabby's Gluten-Free, and share your own recipes in our Healthy Recipe group!