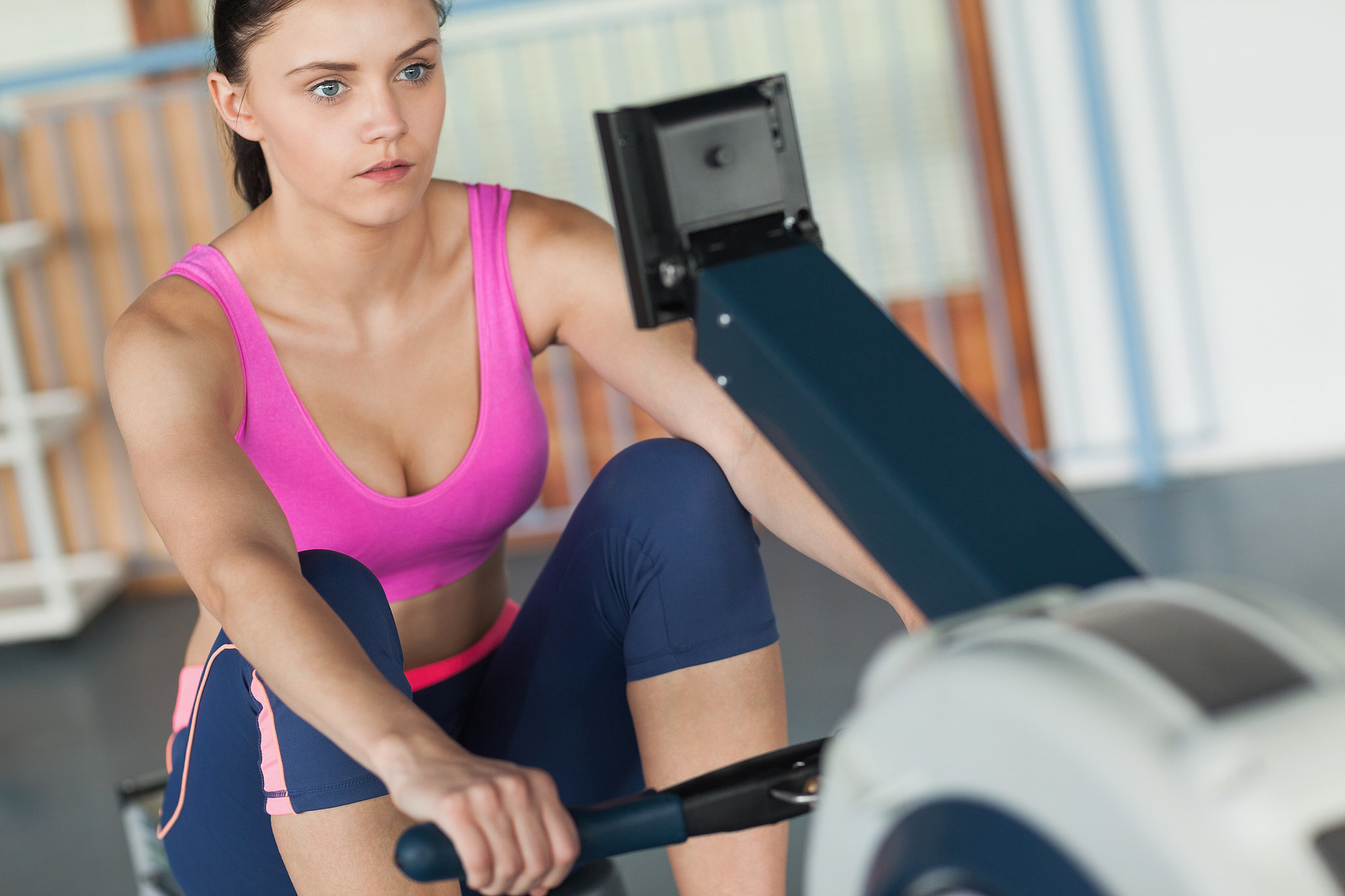 The day after a hard workout, it's best to do some straightforward cardio to bring new blood to sore muscles. Today's workout from our Bikini Body Countdown [1] will definitely help you recover from yesterday's Tabata sweat session [2]. To keep things interesting, and to challenge your body in new ways, we've created a cardio plan that keeps you moving for a solid 45 minutes using three different machines. It's a boredom-busting, fat-burning, triple-threat cardio workout using the rowing machine, elliptical, and the treadmill. Don't know much about the rowing machine? Don't sweat it! Watch this video demonstration [3] full of tips on using this machine.
| Time | Machine | Notes |
| --- | --- | --- |
| 0:00-10:00 | Rowing Machine | Set between 3 and 5; increase your strokes per minute for the last 15 seconds of every minute. |
| 10:00-20:00 | Elliptical | Set resistance between 6 and 8. Go forward for first minute, then go backward for the second; continue alternating directions every minute. |
| 20:00-30:00 | Treadmill | Set incline to 1 percent, and keep speed at a pace you can hold steady for 10 minutes. |
| 30:00-35:00 | Rowing Machine | Set damper between 4 and 5, increase strokes per minute for last 20 seconds of each minute. |
| 35:00-40:00 | Elliptical | Set resistance between 6 and 8. Every other minute, let go of the handles to workout your core more. |
| 40:00-45:00 | Treadmill | Set incline to 5.0 and speed to 3.5 mph. |
If you don't like to run, skip the treadmill and hop on a bike instead. Don't have access to a gym with all these machines? No worries. You can run outside, swim, rock it old school with step aerobics — just get active and keep your heart rate up for 45 minutes. Click here for a printable, image-free version of the workout [4].
Be sure to enter our Bikini Body Countdown Getaway [5] to win a three-night stay for you and a friend at the El Ganzo [6] hotel and spa in Los Cabos, MX.