Calories in Popular Yogurt Toppings
Guess the Calories in These Popular Yogurt Toppings?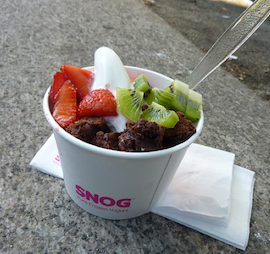 One of my favorite warm-weather pastimes is visiting my local frozen yogurt shop. Frozen yogurt is such a tasty treat — especially on a hot day — but what I love even more is being able to load up my yogurt with delicious toppings. Sometimes when I'm feeling really adventurous, I steer clear of the traditional fruit toppings and I go for something more exotic — mochi, anyone?! Even though they taste sweet, a lot of the options are not so friendly when it comes to calories. Here's a quiz to see how much you know about the calories in yogurt toppings!
Source: Flickr User Magnus D