Best Exercises For Thighs
3 Simple Moves For Stronger Thighs
Skinny jean and tall-boot season is nearly upon us. For shapely legs that rock these styles right, working out your quads and inner thighs is a must. These three beginner-friendly moves will help build strong, toned legs and have you feeling confident when you hit the streets.
Step-Ups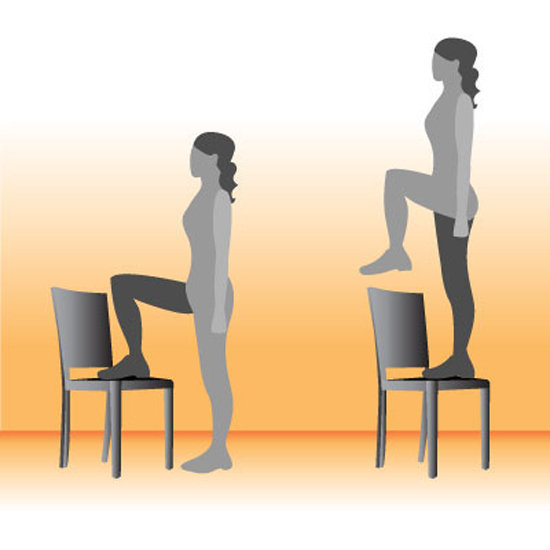 Step-ups are a great exercise that work your thighs, glutes, and hips simultaneously. If the beginner version is too simple for you, be sure to try out the intermediate or advanced variation:
Find a step (or bench) that you can place your foot squarely on that will bring your knee up to a 90-degree angle.
Step up with the right foot, then the left, so that both feet are on the bench.
To return to the starting position, first step down with your right foot, then the left. This is one rep.
Perform 20 reps on each side.
Sumo Squats With Side-Arm Raises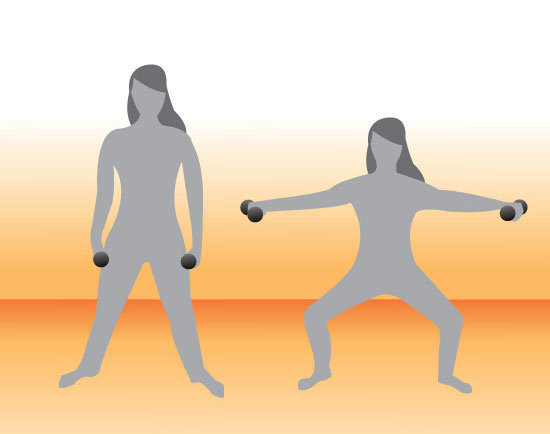 Sumo squats are one of the first moves trainers recommend for strong and shapely legs because it works the glutes and inner thighs. If the side-arm raise is too much right now, forget the dumbbells and just work the legs:
Stand with legs wide and toes pointed slightly outward. Hold a pair of dumbbells in your hands with arms at your side, palms facing down.
While raising your arms to just below shoulder height, bend down until the knees are directly above the ankles.
Straighten your legs and lower your arms simultaneously.
Complete three sets of 15 reps.
Keep reading for a P90X move with its own video tutorial.
Wall Sits With Medicine Ball
These are no ordinary wall sits — they're P90X-powered! You will definitely feel the burn in your quads, but this is an awesome full-body move:
Start with your back flat on the wall. Make sure knees are over the ankles, with quads parallel to the ground. Hold the medicine ball in the center of your chest.
Press the ball up overhead with straight arms. Hold for a two seconds.
Keeping arms straight and strong, lower the ball directly in front of your chest. Hold for two seconds. Draw the ball back into the chest for a two-second rest. Repeat the move.
Perform for one minute.