Audrina Patridge Shares What's in Her Gym Bag
Audrina Shows Us What's in Her Gym Bag — How About You?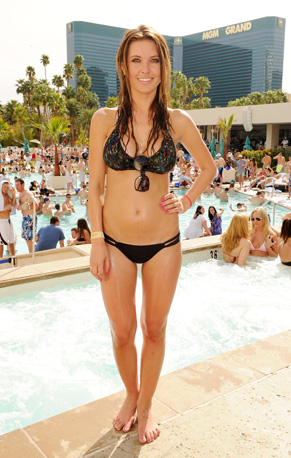 Bikini season came early for Audrina Patridge: she was poolside in Vegas last week and was seen hanging in Cabo a few months ago. Given Audrina's penchant for always being beachside-ready, OK! magazine is featuring some of her fitness tips alongside those of personal trainers, nutritionists, and other celebs as part of its bikini-body countdown feature.
As a bit of a preview, Audrina shared on her blog the contents of her gym bag, which she always has "packed and ready to go." That way, Audrina says, "I'm ready for any passing opportunity and I won't have any excuse to skip a workout!"

To find out what Audrina packs in her gym bag, read more.
Leila Lou roll-on fragrance. Audrina loves how easy it is to apply this "light and fresh fragrance."
Arcona Triad pads. These toning face pads help Audrina freshen up after working out.
Lifefactory glass water bottle. No wasteful plastic bottle for Audrina! The silicone lining protects it from breaking.
Kashi TLC granola bars. Her "quick snack on the go," dark chocolate cherry is her fave.
Music. She doesn't work out without her "jams." Right now she's listening to the Yeah Yeah Yeahs and Ratatat.
Tell me, what extras are in your gym bag?