Almond and Coconut Macaroon Recipe For Passover
Don't Pass These Over: Almond and Coconut Macaroons
Passover is soon, and macaroons are the perfect treat to whip up for your own dinner or to bring along as a guest. This recipe results in a tasty cookie that's easy to make, is fairly low in sugar, and contains a decent amount of protein and fiber.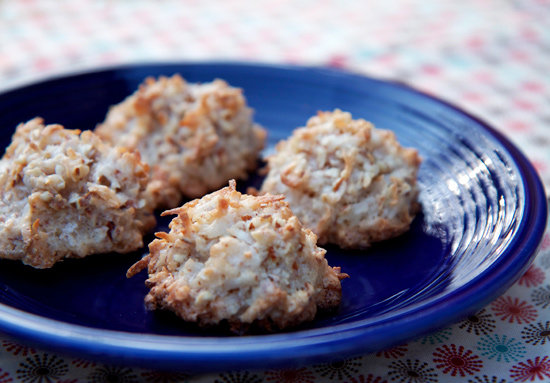 Macaroons are traditionally made solely with shredded coconut, but these also contain chopped almonds for an interesting and addictive crunchy texture. The only problem is these almond and coconut macaroons are so hard to resist, you'll have trouble stopping at just one.
Continue reading to see this simple recipe and to find out how many calories are in one macaroon.
Almond and Coconut Macaroons For Passover
Ingredients
2/3 cup sugar
2 large egg whites
2 cups unsweetened shredded coconut
1/2 cup whole almonds
1 teaspoon pure vanilla extract (to be completely kosher for Passover, replace with 1 teaspoon lemon zest)
Directions
Preheat oven to 350°F. Line two baking sheets with a nonstick baking mat or parchment paper. If you don't have those, spray cookie sheets with nonstick cooking spray.
Whisk together sugar and egg whites in a large bowl.

Chop the almonds in a food processor.

Add the almonds, shredded coconut, and vanilla (or lemon zest) to the egg whites and sugar mixture.

Form dough into 16 two-tablespoon mounds, and drop each onto sheet, two inches apart.

Bake macaroons until golden-brown on bottoms and edges, about 15 minutes. Let cool on sheets for five minutes. Transfer to wire racks, and let cool.
Makes 16 cookies.
Information
Category

Cookies, Desserts

Here's the nutritional info for one macaroon.
Source: Calorie Count