Edamame is a protein and fiber powerhouse that shouldn't be ignored. They're only 95 calories per half-cup serving, offering four grams of fiber and 8.5 grams of protein. For an added bonus, they also contain iron, calcium, folate, vitamin K, vitamin C, and manganese.
Not sure what to do with these baby soybeans? Aside from snacking on them alone, here are four simple recipes you can whip up for a satisfying snack, lunch, or dinner.
Edamame and Pear Crostinis
Wow your friends with this delicious nibble at your next dinner party. Made with edamame, mint, pecorino Romano cheese, and ripe pears, the flavor is slightly sweet and refreshing. Go ahead and reach for another because one crostini is only 62 calories.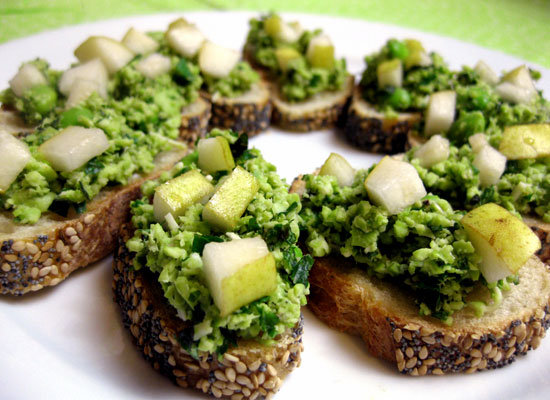 Kale, Edamame, and Cranberry Salad
Made with raw kale, edamame, garbanzos, and tangy cranberries, this salad bowl is full of fiber and vitamins. Don't you just love the bold colors?
Continue reading for two more delicious edamame recipes.