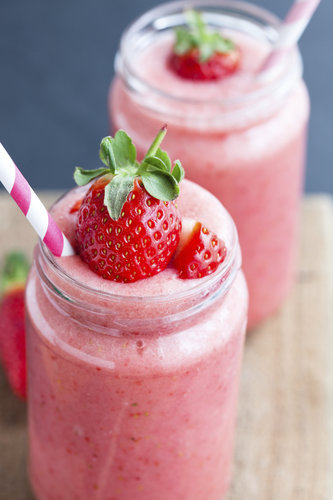 If your diet is lacking in enough nutrients, adding a smoothie to your diet can help immensely. Toss any of these six ingredients into your next smoothie along with your favorite fruits to get their nutritious benefits without sacrificing taste.
Broccoli: The fiber-rich vegetable helps keep you full without changing the taste of even your favorite smoothie combinations. You can use raw broccoli or steam it quickly first for a smoother consistency. This 330-calorie peanut butter, broccoli, and strawberry smoothie will keep you full throughout the morning.
Chia seeds: If you're looking to start the day right, add a tablespoon of chia seeds into every smoothie. The high-fiber seeds are also a great source of anti-inflammatory omega-3s, so you'll feel full and ready to take on your morning. This berry chia seed smoothie recipe masks the taste and texture of chia seeds if you're not a fan.
Green tea: Want a little energy boost in your smoothie? Add strong, cold green tea to any smoothie instead of water for a subtle caffeinated pick-me-up. We like the refreshing taste of this green tea, cinnamon, and honey smoothie.
Keep reading for more nutrient-rich smoothie ingredients.