5 Reasons Why It's Important to Own a Humidifier
5 Reasons to Get Yourself a Humidifier — Stat!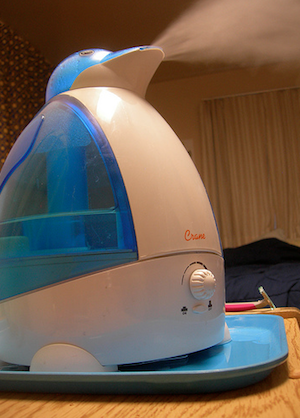 Spring may be right around the corner, but don't let your guard down just yet — cold season is still in full effect! The combination of dry Winter's air, a turned up thermostat, and closed windows can wreak havoc on your respiratory system.
The best way to combat dry air and reduce your susceptibility to infection is to invest in a humidifier. Aside from babies and my parents, I didn't know why someone like me would benefit from using one. But, after a few too many colds throughout the past few months, I knew it was time to see what this said "miracle gizmo" was about. Here's what's great about humidifiers:
Yummy moist air: Thanks to the nice hydrated air a humidifier creates, the insides of your nose and lungs will stay moist, allowing the tiny hairs inside to block the dust and bacteria.
Aids in the healing process: Whether it be a cold, asthma, or allergies, a humidifier keeps your lungs more elastic and your nasal passages lubricated — both necessary in speeding up the healing process. For allergy sufferers, there are humidifiers that are specially designed to purify the air as well.
Here are more reasons why I love humidifiers.
Goodbye nosebleeds: It's been years since I had a nosebleed, but if you notice nosebleeds creeping back into your life when Winter arrives, a humidifier will help prevent them since it keeps your nose nice and moist.
Alleviate snoring: If your partner is a snorer (lucky you!), the moisture from a humidifier keeps the throat from drying out, therefore relieving the intensity of the sound.
Lovely skin: Soothe dry, parched skin by putting your humidifier near your bed when you go to sleep. In the morning, you'll not only notice that your face looks more supple, but your hands won't feel dry either. It also helps to relieve chapped lips, too. Good morning, beautiful!
Before you go out and purchase one, be sure to learn about the differences between warm mist and cool mist humidifiers and also how to choose the perfect humidifier to suit your needs.
Source: Flickr User elisfanclub